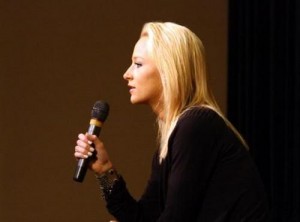 There's no doubt about it: Maci Bookout is a full-fledged star, appearing on numerous magazine covers and talk shows. Viewers are dying to get any info they can about their favorite Teen Mom. (She really is the favorite. She trumped the other Moms in The Ashley's recent favorite 'Teen Mom' star poll. Roundupers love them some Maci!)
Anyway, students at Clarion University in Pennsylvania were treated to some face-to-face time with their favorite 'Teen Mom' star on Monday night. Maci gave a lecture to the over 500 students that attended.
Who wasn't invited? The paparazzi, those photo-hungry hounds who can be seen snapping away at Maci and the other 'Teen Moms' on a daily basis. In fact, to prevent this Clarion University posted security on site to keep Maci's speech private and safe.
According to Tyler Shearer, one of two students who helped organize the event, Maci's speech sold out in only two days! (See, I told you she was popular!)
"I wanted someone with a clever story who would have a great impact on college students," Tyler told The Ashley. "I wanted [Maci to speak] because she's very popular right now…I think [our students] related to her, because Maci was the same age as most of us college students and people look up to her if they are in a similar situation."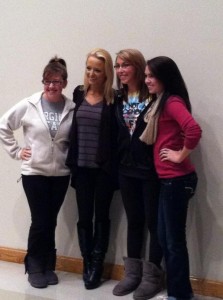 During her speech Maci (who has been doing these speaking engagements off and on for about three years now) told the story about how she told her mother she was pregnant (in a text message!) She also dished about her current life with Kyle King and Bentley.
"She talked a lot about the show and how she and Bentley really have gotten used to it," Tyler told The Ashley. "She also said that Bentley thinks that having cameras around all the time is normal!"
According to the Clarion Call News, at one point Maci asked the audience if any of them made at least $1,000 a month. When only a few students raised their hands, Maci told them "ya'll would be screwed [if you were to have a child right now].
"She talked about how important it is that pregnancy shouldn't stop someone from going back to school," said Tyler. "She really touched my heart with her story and her amazing personality."
Tyler said that he was surprised to find that Maci was down-to-earth and friendly. (This makes The Ashley happy! I hate it when I hear that TV stars are douche nuggets in person!) He was given the honor of picking her up and dropping her off at the airport. During that time they spoke about life, family and played games, he said.
"Maci Bookout is hands-down the strongest woman I've ever met," Tyler said.
Being a teen mom, and no doubt being on 'Teen Mom' has changed Maci's life 100 percent.
"It's the best and worst thing that ever happened to me. It gave me a purpose," she said during the speech.
She also confirmed what us 'Teen Mom' fans have been hearing (and hoping is not true): that the show's fourth season (which is currently filming) will likely be Maci's last. (Waaaaa!)
The Ashley thinks it's cool that Maci does these speeches (even if she does get paid for them). College kids are more likely to listen to another college kid, so it's likely that Maci has helped numerous people by telling her story and advising people against teen parenthood!
Wanna see a cool video of Maci being interview after the speech? Click here.
(Photos: Twitter)