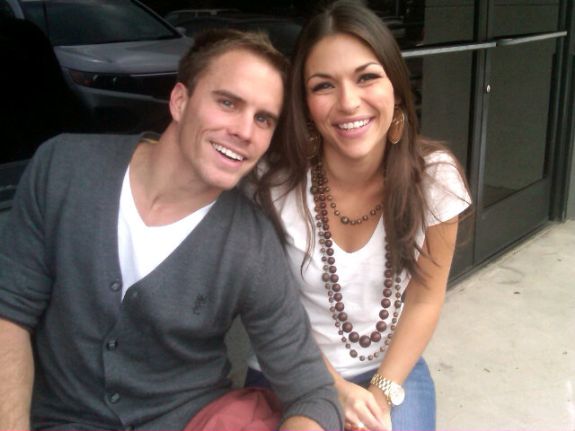 Pigs are flying. Hell has frozen over. A woman who once appeared as the Bachelorette is actually getting married! That pretty much never happens…
Unfortunately, the bride is not the most recent 'Bachelorette,' Ashley Herbert. It's not even Ali Fedotowsky (more on her later). The 'Bachelorette' that will be walking down the aisle on Saturday is DeAnna Pappas, who was one of two women famously abandoned at the final rose ceremony of Brad Womack's first season of the Bachelor. (She later went on to star as the next season's 'Bachelorette.')
DeAnna is marrying Stephen Stagliano. If that last name sounds familiar it's because he's the twin brother of Bachelor Pad star (and Holly Durst dumpee) Michael Stagliano. In fact, DeAnna and Stephen got engaged within weeks of Michael and Holly back in 2010. There was even talk of a double wedding extravaganza at one point. We all know what happened to Michael and Holly though…
Anyway, from what The Ashley can gather, DeAnna's wedding will be held in Georgia. She will be wearing an Alfred Angelo dress and….wait for it…cowboy boots. (Yee-haw!) The couple plan to honeymoon in Belize.
Wanna see their wedding registry? (They still need their garlic press and toaster, just FYI!)
Wanna see their engagement photos?
Naturally, a whole mess of 'Bachelor' and 'Bachelorette' alum is expected to attend the festivities, including Graham Bunn (of 'Bachelor Pad 2' fame) and David Good and Natalie Getz (winners of 'Bachelor Pad 1′). I wouldn't expect to see ol' Holly's name on the guest list though!
Anyway, it's very rare that a 'Bachelor' relationship actually ends up in a wedding. Even though DeAnna didn't actually meet Stephen on her season of the 'Bachelorette,' they did meet at a 'Bachelor' alum party, so it kind of counts. DeAnna and Stephen will join Molly and Jason and (guess who?) Trista and Ryan as the only 'Bachelor'-related couples to make it to the alter.
What about Ali and Roberto? Shouldn't they be getting hitched soon? According to a new interview she gave to E! Online, she is no longer planning a wedding at all!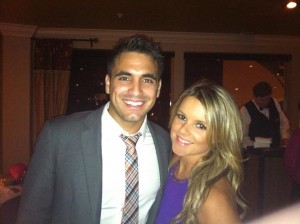 "We're still engaged; we're still living together," Ali told E! "We just don't feel the need to walk down the aisle right now. We had a very short courtship and we only knew each other nine weeks before we got engaged," she said. "We are still figuring out our lives as individuals."
"In my mind, Roberto is my husband," she said. "We live together, we do everything together, we plan for the future together, we fight just like a good old married couple."
Hmm….I hope they don't end up being the next victims of the 'Bachelor' bad luck.
Anyway, congrats to Deanna and Stephen! Happy wedding!