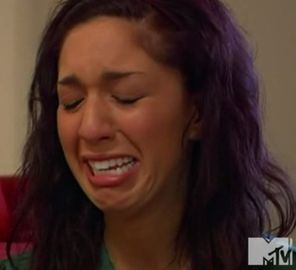 Teen Mom star Farrah Abraham is attempting to "show her smarts" and, unfortunately, is failing miserably!
Farrah's attempts to be witty and holier-than-thou via the Twitter are truly a little gift from heaven. Her idiotic tweets are perhaps the best thing to ever come out of Farrah (except for Sophia, of course).
Just for hoots and hollers, The Ashley is happy to bring you this collection of the stupidest tweets ever posted by Farrah.
Some of these caused a great deal of controversy and commotion, but I'm sure Farrah still thinks they were completely brilliant.
Before we start, we must make fun of Farrah's Twitter bio, in which she describes herself (in true English-as-a-second-language style) as:  "#1 Mom, Producer, modeling/acting/talent professional,Culinary/Hospitality Professional, Author ! WorldPeace!"
This makes me LOL every time I see it. The phrase "#1 Mom" belongs on the coffee cup of an old lady in an accounting office, not a Twitter bio, first of all. Also, you've got to love the random "WorldPeace!" at the end.  That's like The Ashley describing herself as "Writer.General Creep. HungryChildren!"
Anyway, on with the show…
Stupid Tweet #5: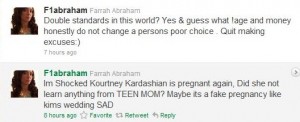 These tweets spurred a ton of Internet stories today. They make no sense at all. Why would Kourtney, a 32-year-old woman, need to learn anything from Farrah and 'Teen Mom?' And you know it pains The Ashley to stand up for a Kardashian. Here's a good story about the Farrah/Kourtney Twitter war.
Stupid Tweet #4:

As opposed to the kind you watch with your ears. <Palm to forehead Farrah's face>
Stupid Tweet #3:

Honestly, I wouldn't be so proud to say that if I were you.
Stupid Tweet #2:

I really, really hope that these are song lyrics. If not, I think she needs to be committed.
Stupid Tweet #1: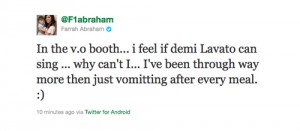 Not only was her remark about Demi Lovato idiotic but it was also quite cold, as Demi had recently left a rehab center for treatment of an eating disorder.
What was your favorite Farrah tweet!?