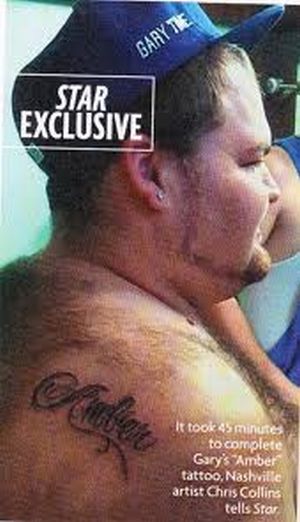 Well…the relationship lasted for years (on and off) but the tattoo only lasted about four months!
It seems that Teen Mom star Gary Shirley is finally ready to get Amber Portwood out of his life– and off of his shoulder. The couple has had a tumultuous relationship that's included (but is not limited to) two engagements (complete with Wal-Mart engagement ring), one domestic violence arrest and a child.
On September 3, Gary and Amber were trying to make their relationship work again, so Gary snuck over to a Nashville tattoo shop and had Amber's name tattooed on his upper back, hoping to surprise her. Unfortunately, the ink had barely dried (and was probably still in that itchy, crusty state) when the two called it quits, leaving Gary with a constant reminder of his failed relationship with Amber.
Gary has announced that he is going to get his "Amber" tattoo covered up this weekend. He tweeted this stern warning to his followers. (I've cleaned it up a bit.)
"So never get a tattoo of your girlfriend's name. [I've] learned from my mistake I'm a dumbass."
Ya'll, that's good advice! It amazes The Ashley how many young people are so quick to get inked these days. Obviously, they realize that they'll be stuck with it for the rest of their lives but, trust me, the rest of your lives is a long time. It'll feel even longer if you have to stare at a "Kevin" tattoo on your hip every single day (or something like that). You probably won't be able to pick ol' Kev out of a line up in 20 years, yet you'll still have to look at your freaking tattoo of his name.
Don't do it.
Also, don't do this to your body. Ever.
(Photo: Star)