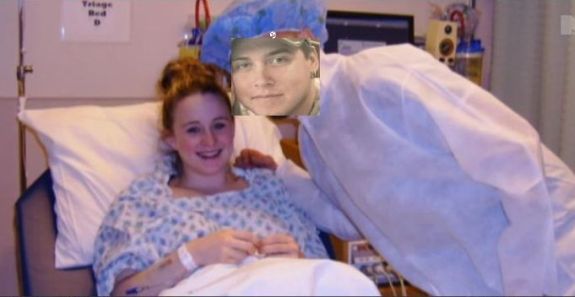 The Ashley doesn't like to write about things until she is 100% certain that they are true but she's about 99% sure on this one so she figures it's safe to go ahead and write about it.
The Ashley is almost positive that the reports are true: Teen Mom 2 star Leah Messer is pregnant with her third child! This is not just a tabloid rumor, as The Ashley originally thought.
A very good source told The Ashley that this is legit. Leah is pregnant with her live-in boyfriend Jeremy Calvert's baby! (I apologize for the horrible Photoshop job I did on the photo above, but it made me chuckle!)
The Ashley is confirming that Leah, is in fact, pregnant. When the rumors of the pregnancy first broke, Leah's best friend, Amy, stepped up on Twitter to deny the claims that Leah was pregnant. (She later erased those tweets.) Just days after this, a publicist for Leah had been shopping the story to various celebrity magazines. They found a buyer in Reality Weekly, a brand new magazine launched by the same company that owns Star.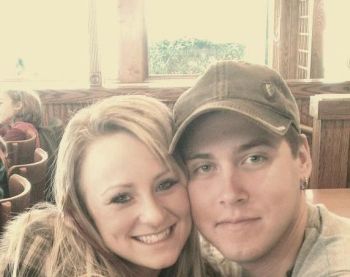 The magazine apparently got an interview with Leah's boyfriend Jeremy, who told them that not only is Leah pregnant but that he proposed to her on Christmas day.
"I bought an ornament for the tree that said 'Engaged' with both our names on it and the date," Jeremy apparently told Reality Weekly. "And when I saw Leah looking at it, that's when I gave her the ring. It's a 1.5 princess-cut diamond."
"Yes, Leah is having my baby!" Jeremy told them. "I was at work when Leah called to tell me. She'd gotten blood work done and it came back positive. At first I was kind of surprised — but I was happy."
Now this could be written off as tabloid gossip, except for the fact that legally the magazine can't attribute quotes to someone who didn't actually say them. (This is why most tabloid stories quote "a source" instead of the actual celebrity when they make up stories.) Because they are stating that Jeremy actually said all this, it must be true or this magazine would be in very hot water.
Jeremy's friends are talking about Leah's pregnancy on the Facebook, referring to Leah as Jeremy's "hot impregnanted girlfriend." Between this, the story and my source telling me that they are 99% sure this is true, I think it's safe to say that Leah is with child.
This baby will make three children for Leah! Wouldn't it be crazy if she had twins again?! She's quite the Fertile Myrtle!
The Ashley will update when she hears anything else!
UPDATE: In Touch Weekly (who are never really "in touch" with anything because most of what's printed in there is wrong) is running a story this week about Leah having twins. This is not true. Leah tweeted this in response to the story:
"Thank you @intouchweekly for telling me I am having twins again, love bad reporting and fake stories, it does sound like a Soap Show! Ha!"
She is pregnant; however there appears to be only one child in there. While it would be extremely rare (according to Internet research, it would be about 1 in 3,000) to have two sets of fraternal twins, it does happen. In fact, The Ashley knows someone who had it happen! She had twin girls and then three years later had twin boys naturally!
That said, it did not happen with Leah. There's only one baby.