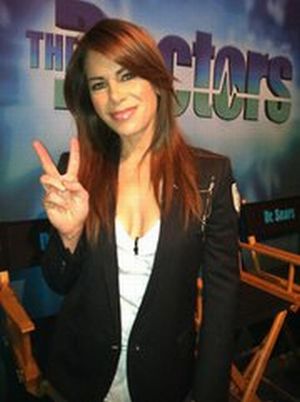 Uh-oh. It looks like Jillian Michaels got Kournikova'd!
Jillian has apparently been "let go" from the CBS show The Doctors after only one season, with insiders telling the New York Post that she "just wasn't a good fit" for the show.
Ironically, this is exactly what happened to Anna Kournikova who was Jillian's replacement on her previous show, The Biggest Loser. Anna got the boot after only one season because she failed to gel with the contestants and the audience.
Jillian joined 'The Doctors' in September. (The cast also includes former Bachelor star Travis Stork, as well as several other physicians.)
Here's the official PR mumbo-jumbo regarding Jillian's release:
"Jillian has contributed greatly to our show this season, and we value her talent and insight as she has inspired countless people to improve their lives. Although it wasn't the fit we both hoped for . . . Jillian will always be a part of 'The Doctors' family."
Even though she is no longer on the show, Jillian is far from jobless. She's doing all kinds of fitness-related things, and has about a million weight loss and fitness products and sponsorships. She's also still doing her NBC show Losing it with Jillian.
However, her release from 'The Doctors' will make it possible to return to the 'Biggest Loser.'
However, I wouldn't hold your breath. Jillian left 'The Biggest Loser' because she was very unhappy on the show, among other reasons.
"I couldn't have been more miserable ," she told the L.A. Times in September. "I just stopped growing and became complacent and I thought 'That job is done.'"
There's no word from Jillian on what's next for her career. She's currently in Paris on a vacation and has yet to mention her release from 'The Doctors' on her Facebook or Twitter.
(Photo: Facebook)