After sitting through eight mediocre episodes of Teen Mom 2 , it seems like we are finally about to get to the good stuff! 
This season of 'Teen Mom 2' can so far be summed up with these four sentences: 
"Waaa I love Adam even though he treats me like crap."
"I told ya, Kieffa's no good fahhh ya!"
"It's time to go to Ali's doctor appointment."
"Why am I the only girl on this show that actually works and goes to school?!"
I'll let you figure out which sentence belongs to which girl.
Anyway, while all that is well and good, what us creepy 'Teen Mom 2' fans really want to see is what happened between Corey and Leah to cause their sudden and shocking divorce! Well, kids, it seems the time has come for us to find out. As you can tell from watching the preview above, by episode nine, things are starting to unravel for the newlyweds.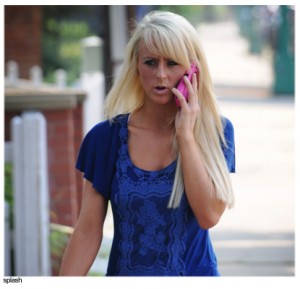 It seems like money issues played a part in the demise of the Simms' marriage. I also have a feeling that Corey's truck will come into play here very shortly. This episode will be the beginning of the end for Leah and Corey's marriage. 
By the way, the episodes we've seen thus far are actually episodes that were taped before the 'Teen Mom 2' Season 1 reunion! Technically, they should have been a part of Season 1, since they were taped before the cast came to Los Angeles in February 2011 to tape the Season 1 reunion. I find this funny.
I think Episode 10 will be the first episode that actually took place after the Season 1 reunion. 
(Photo: Splash/ Video: MTV)