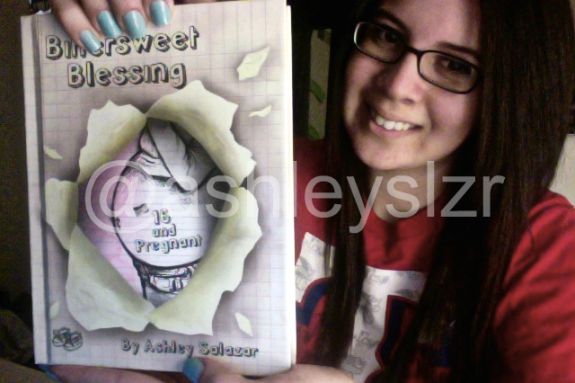 Bittersweet Blessing, a book written by 16 & Pregnant Season 2 star Ashley Salazar, was released today!
The book documents Ashley's journey through pregnancy, as well as her time on the MTV show and her decision whether or not to allow her aunt and uncle to adopt her daughter, among other things. While we got to see a lot of this play out on her episode of '16 & Pregnant,' Ashley promises that the book will go into greater detail as to what that time in her life was really like. (Not to mention it also talks about what it was like to film the show. The Ashley loves "behind the scenes" stuff!)
"My book being on shelves is relieving because all of my hard work has led up to this moment and it's finally here. I feel so blessed to be able to share my story and help others," Ashley told The Ashley a few days ago.
"Of course I'm scared [that] people will judge [me] but they have to take what they can out of the book and everyone is entitled to their own opinion," she said of the potential backlash the book may cause her.
Back in October, The Ashley did an in-depth interview with Ashley regarding her book, her life today and her future. The interview was part of The Ashley's "Life After 16 & Pregnant" series. (Click here to read those stories.)
Becoming a published author at any age, let alone age 19, is no easy fete. Ashley should be very proud of herself.
Wanna order the book? Click here: Bittersweet Blessing: 16 & Pregnant
In other '16 & Pregnant' book news, Teen Mom star Farrah Abraham will also be releasing a book this year. Her book, the somewhat insensitively titled My Teenage Dream Ended, will be released on April 3. (I'm sure it's going to be a complete trainwreck so, naturally, The Ashley will be buying it. Still, I have to give Farrah props for doing something positive, unlike a few of her 'Teen Mom' cohorts.)
If you want to pre-order Farrah's book,  I've included a link below for that as well.