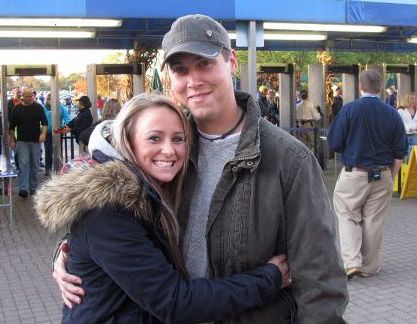 The Ashley is sad to report that Teen Mom 2 star Leah Messer has suffered a miscarriage. Her fiance, Jeremy Calvert confirmed it to OK! magazine.
"It's a devastating experience, but all I can do is support Leah and take things day by day," Jeremy told the magazine.
 Another source (most likely also Jeremy) told the magazine that, Leah was "having bad cramps for the past two weeks, and then she miscarried." (The story will be on the cover of this week's OK!)
Teen Mom 2 fans (well at least those that have The Twitter) have been wondering what was wrong with Leah in the past few weeks. She's tweeted cryptic tweets such as "in the arms of the angels" on January 18 and "only God knows…" on January 15, among others.
This is so sad. Luckily, Jeremy appears to be supporting Leah through the hard times. He's still listed as her "fiance" on her personal Facebook page (click here if you want to see that!) Apparently, they are still planning on getting married, even if they aren't going to have a baby.
Also, many of you are probably thinking that this is another made-up tabloid rumor. Unfortunately, it is not. Jeremy was named and quoted in OK!  so the words came directly from him. As The Ashley explained when the story broke about Leah's pregnancy, a magazine cannot legally attribute a quote to someone unless they've actually said this. Therefore, this is truth.
The Ashley's heart goes out to Leah and Jeremy. Regardless if you think it was smart for them to get pregnant so soon, losing a child is never easy. I'm really hoping that Leah and Jeremy's relationship works out. He seems like a loving and supportive guy.