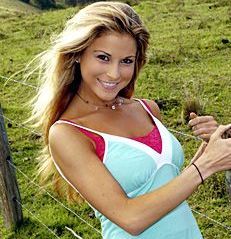 Another season of MTV's The Challenge is up and running! Those of us who enjoy watching the show despite (or maybe because of) the booze-filled hi-jinks are rejoicing!
The Ashley has always enjoyed watching this show, despite the fact that she knows these knuckleheads make more money in a two-week party period than most of us will probably make in a decade. While they are entertaining to watch, most of the people that appear on this show are thick-headed drama queens.
However, there is one silver lining on this show: Diem Brown. The Ashley fell in love with Diem when she first appeared on "Fresh Meat." She is one of the few people on this show that seems to want to do something with her life (other than hook up with people in hot tubs of course).
Here's five reasons why The Ashley hearts Diem: 
1. She survived ovarian cancer.
Diem was diagnosed with Stage 2 ovarian cancer in September 2005, right after she was chosen to be on "Fresh Meat." She had surgery and a few weeks later headed to Australia for her physical fitness endurance tests for the show. She did the entire "Fresh Meat" challenge while she had cancer, and kept it a secret from almost all of her cast mates for a long time so that she didn't get special treatment.  2. She tamed CT….at least for a while.
Diem met CT while they were filming "The Duel" in 2006. She had just completed her chemo treatments a few months before. Diem had to take off her wig to compete in a challenge and CT made her feel really good about it. (This is one of my favorite episodes of 'The Challenge' ever. You can read more about their romance here!) When CT was on "The Duel" he was nicer, happier and sweeter than we'd ever seen him before…or since. (Maybe having Diem on "Battle of the Exes" will turn CT into a nice guy again?)
3. She started a charity for people with cancer and other ailments.
Diem started MedGift.com, a website that acts as sort of a wedding registry for people who are going through cancer treatments or dealing with other major ailments. Basically, when someone asks the person "Is there anything I can do to help you?" the patient can give them their MedGift link and the person can chose to help by giving the patient one of the things on the registry. It's really very cool. (For more info on that, click here!)
4. She wasn't on 'The Real World' or 'Road Rules'
Diem is one of the few cast members of 'The Challenge' that didn't previously appear on 'The Real World' or 'Road Rules.' This is important because most of the people that have appeared on those shows pretty much did nothing but make out with skeevy people in hot tubs and guzzle Jose Cuervo by the gallon. She's way too classy to have been one of those people.
5. She's a vegetarian.
Much like The Ashley, Diem just says no to meat! The Ashley doesn't preach vegetarianism but it's always cool to hear that someone The Ashley admires is a veggie too!
(Photos: MTV, Diembrown.com)