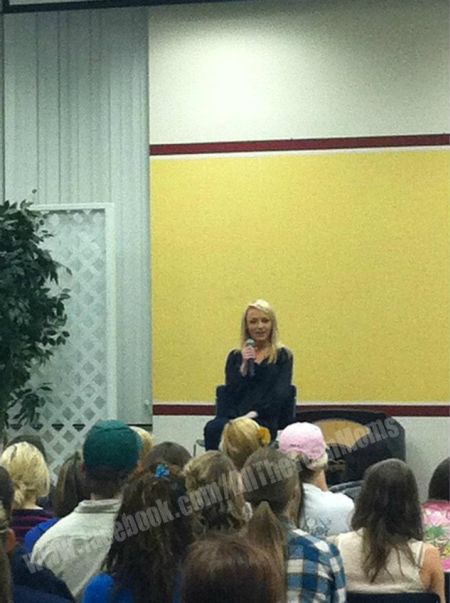 Teen Mom star Maci Bookout spoke to a group of students at Kennesaw State University, a college near Atlanta, this evening. This is just the latest in a string of public speaking engagements that Maci has been doing all over the country.
After her speech she allowed students to ask questions. (I must be getting old. All of those students in the video below look like they should be in 9th grade, not college.)
Anyway, a student videotaped part of the Q & A segment and posted it online. (Kudos to the All The Teen Moms Facebook fanpage for finding it!)
One student asked why MTV makes the 'Teen Mom' girls pretend like they're poverty stricken when we all know they get a big fat check. Apparently the kid straight-out asked how much she got paid. Maci (sort of) answered her question.
"I'm not really supposed to talk about it, but…I still have the normal struggles, like I have to budget and pay my bills," Maci told the crowd. "But at the same time I'm not going to put my entire world on camera for the entire world to see and judge me and take away my privacy, my family's privacy, my son's privacy for free. Nobody works for free."
"It is work," she said. "Filming literally is exhausting and it sucks. There's cameras that can see if you're picking your nose, if you're going to the bathroom. You have no privacy whatsoever."
Maci defended her castmates, insisting that the rumors that they are living large are false.
"All these rumors that we're rich and famous…no, I still go to the community college. I still go to Wal-Mart," she said. "I'm still a normal person that lives in Chattanooga, Tennessee.
The conversation then shifted to why Maci does the show if it's so hard.
"I do this [show] because I enjoy it. I would love to share my story to keep other people from having to go through the struggles that I've gone through and to keep our children from going through what my child is going to go through," she said. "If I had seen this show when I was in high school before I got pregnant, I wouldn't have gotten pregnant with Bentley."
One kid asked how she feels about creepy paparazzi people (does The Ashley count?) and if anyone has ever harassed her in public or stalked her?
"I've never had a stalker and there's no paparazzi where I live because I refuse to tell them where I live. I keep it on the down-low," she said. (Trust me Maci, the paparazzi knows, even if they don't show up all the time. Those guys have sonic radar when it comes to finding celebrities!)
"The worst thing I get is on Twitter," she admitted. "These people will make Twitters and they say really mean, evil, nasty stuff. It doesn't bother me but I'm like, 'how are you OK with yourself?'" I can't believe people say the things that they say."
Maci seems to have found her niche with the public speaking thing. Tonight she tweeted to her fans, "I love my job and I'm so blessed that i can make a difference!"