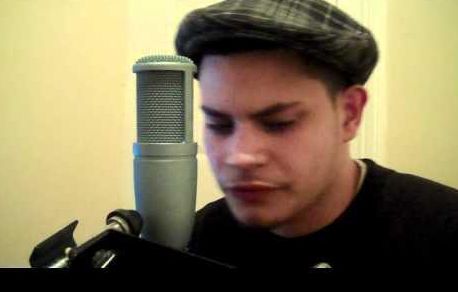 Rappin' Jo Riveria made his way onto a North Carolina radio station this morning. He was interviewed by the hosts of the "Murphy in the Morning" radio program, who asked the Teen Mom 2 father some tough questions about his baby's mother, Kail Lowry, as well as the show and his rap music career. (Yes, there is a rap music career. I'll just let that sink in a bit.)
Anyway, in case you're too lazy to listen to the interview (or at work and can't), The Ashley has been kind enough to provide some transcripts of the call for you.
I will say, I think Jo handled himself well, considering some of the horribly awkward questions these knuckleheads asked him. He didn't bash Kail and was actually quite respectful towards her.
The first part of the interview was basically just one guy talking about how glad he is that his own daughter didn't end up pregnant and on some crappy MTV show. (Way to make your interview guest feel right at home there, buddy.)
After that, the radio crew asked Jo some questions and here's some of the responses.
On Getting Used to the Cameras: "It doesn't really take long [to get used to them] ,when you have them around so much.. you get used to them pretty quick."
On How He Ended Up Hooking Up With Kail During Season 2: "Of course nothing happened while the cameras were there, it was just something that went on afterwards."
On Why He Fell For Kail Originally: "It's hard to say. We were young and were attracted to each other. She's not a bad person. We all have our moments."
Regarding the Whole "STD Debate" on the Reunion Special: "I had no idea they were going to bring that up…I didn't have any [STDs] so I don't know…."
Regarding How He Felt Hooking Up With Another Man's Girlfriend: "Well, I don't know, some feelings came back. I was [thinking with my mind]. I wasn't thinking about nobody's else's mind, I'll tell you that much."
When Asked If He Thinks He Has a Future With Kail: "Who knows, who really knows? I can't really tell the future. As of right now, no, no I don't. I've got to look out for what's better for me and the baby, of course."
On His Twitter Groupies: "Yeah I [get hit on a lot] online. It's kind of awkward. I'm not used to people hitting on me on the Internet. Most of fans of 'Teen Mom' are girls so I guess it comes with it."
On His Music Career: Jo said that his single "Life of a Teen Father" will be released on iTunes on March 20 and Isaac's voice will be featured on the song!
If He Had to Date Another 'Teen Mom 2' Castmember: After much prodding from the horrible radio show hosts, Jo finally admitted that if he were to date another 'Teen Mom 2' girl, he'd pick Chelsea. (In Jo's defense, they made him answer and he really tried to politely avoid the question.)
Click here to listen to the whole interview.