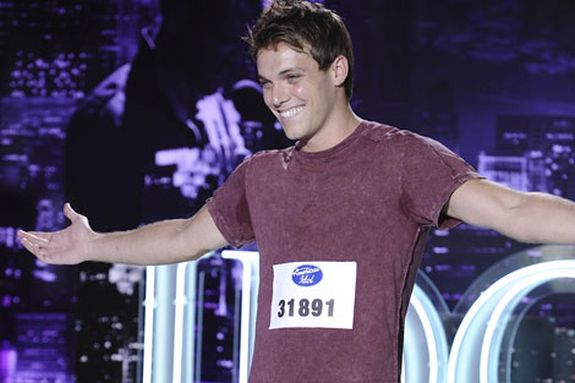 American Idol viewers got a big surprise at the end of tonight's episode, when it was revealed that one of four eliminated favorite contestants would be coming back to compete for a shot at the Top 12. But perhaps no one was more surprised than Johnny Keyser, who found out with the rest of America that he might be coming back to 'Idol!' Apparently, no one filled him in on the twist!
Johnny was at home, watching as contestants were selected to be in the Top 24, when he was shocked to see his face appear on the screen as one of the contestants that might get a second chance at 'Idol' glory!
"What just happened…?" Johnny tweeted when he saw his face on screen. "I had no clue about this at all. Guys…GUYS!"
Johnny wasn't the only one who was surprised. David Leathers Jr. (or "Lil' Michael Jackson" as I like to call him) also had no clue about the surprise ending.
"I didn't even know the twist was going to happen," he tweeted to a friend who asked about it.
After Johnny got over the initial shock of a possible second chance, he revealed that he may not be as confident as he seemed on the show.
"Idol broke me, now I know who I am.. I'm humbly preparing for another possible shot…"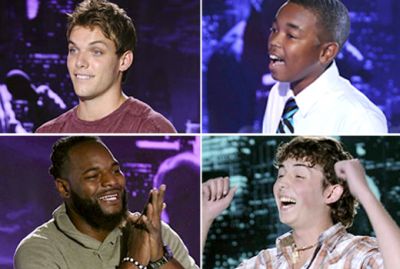 The other two that are in consideration are the really tall guy with the deep voice, Jermaine Jones, and the mouthy cowboy, Richie Law. Apparently we will find out next week which one gets to sing for America.
Speaking of Richie, apparently he's upset at how he was edited to look on 'Idol.' He's been attacked by 'Idol' fans on The Twitter for being pompous and bossy to his group mates; however, Richie claims he was edited to look like a villain.
"Imagine making top 40 or 134,000 only to be shown to be an ass," he told one of his followers. "I was just trying to lead, not be an ass. I didn't even know all that until it was on TV."
"They took this year to make guy drama. I shouldn't have said anything at all," he told another.
He also advised another country singer that was considering auditioning for 'Idol' to rethink her decision.
"You should try out for The Voice…skip Idol."
Ouch. Something tells me that this cowboy will be singing a different tune if he ends up being the guy chosen to come back onto the 'Idol' stage!
(Photos: FOX)