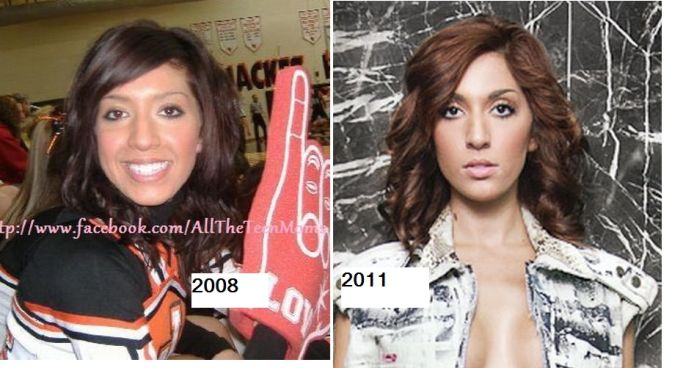 It's no secret that Teen Mom star Farrah Abraham got a little help from the plastic surgeon last year (after all, she did let the MTV cameras go into the operating room with her while she was getting her new boobies put in. Who could forget those horrific images?)
However, The Ashley is convinced that Farrah has made yet another visit to her plastic surgeon, this time to get her nose done! Of course, this is only speculation, of course, since Farrah has yet to confirm the procedure. (Perhaps we'll get to see that on Season 4 of 'Teen Mom?') However, being somewhat of a nose job connoisseur (I do live in Los Angeles, Land of the Nose Job, after all) I think it's safe to say that she had her nose done.
Farrah recently did a modeling spread for the April issue of Agenda magazine. In the new photos, her nose looks completely different from when we met her on 16 & Pregnant back in 2009.

In comparing the old photos to her recent shots, it's hard not to notice how much thinner her nose is in the more-recent photos; also notice her once-pronounced "hump" is now smooth and straight. Of course, this could be the work of a very skilled Photoshopper (although I don't think there is any Photoshop expert in existence that could do work this good. If you do exist, please come work for me!)
I've got to give Farrah credit: she has good taste in plastic surgeons! Both her breast implants and (alleged) nose job look very natural and well done.
Farrah isn't the only 'Teen Mom' franchise star to go under the knife. Maci Bookout also got breast implants last year (although she's never admitted it) and 'Teen Mom 2' star Jenelle Evans is planning to go under the knife to pump up her mammaries!
Update: Well, it looks like Farrah finally confirmed that she did, indeed, get a new nose, as well as a chin implant. This week's issue of In Touch has her bandaged mug on the cover, in case you want to see it. The Ashley knows a nose job when she sees one! My guess? This was a revision from the first nose job.
("After" Photos: Jeff Linett)