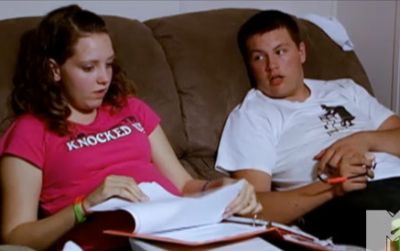 Yet another girl featured on the MTV series, 16 & Pregnant, has announced that she is once again pregnant! Brooke Smitherman-Tarrant, who was featured on Season 2B of the show, has announced her second pregnancy.
Fans of the show will remember Brooke as the race-car-loving girl who moved into a barn (yes…a barn) with her baby-daddy, Cody during her episode. The couple got married right before Brooke gave birth to their son, Brody. Brooke has stayed relatively quiet since her episode aired– no arrests, drug busts or TMZ appearances, as far as The Ashley can tell. She seems to be happily married and just taking care of her kid.
Anyway, Brooke and Cody apparently found a place in their barn for sexy time because Brooke is once again pregnant!
She joins fellow '16 & Pregnant' cast members Jordan Ward, Ebony Rendon, and a few others who have gotten pregnant for a second time while in their teens.
"Hey everyone! I just wanted to announce Brody will be a BIG BROTHER in December. Cody and I are very excited to share the news with everyone," Brooke posted on her Facebook fanpage on Monday.
Of course, Brooke and Cody are married, and not 16 anymore (She's 19 now) so this isn't exactly scandalous news. I wonder if they still live in that barn though? Is there enough room for two nurseries?!
Update July 2012: Brooke and Cody recently announced that they are expecting a little girl.