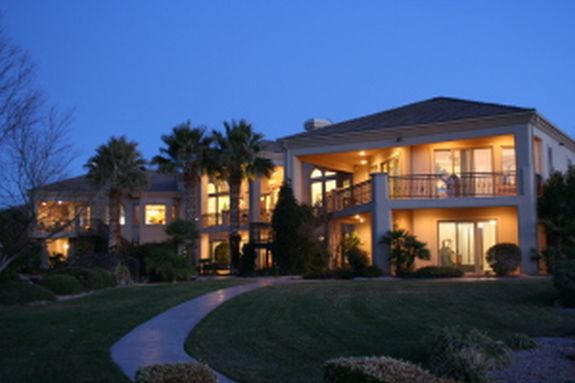 Not only does Jef Holm have the heart of former Bachelorette Emily Maynard, but he also has money…and lots of it!
Jef own his own company called People Water, but also comes from a very rich family! This became evident a few days ago when Jef's parents put their home in St. George, Utah, up for sale. The price to own the childhood home of Jef Holm? A cool $3,390,000! (In case you're like The Ashley and have trouble reading really big number accurately, that's over three million dollars!)
Jef's parent's home is listed as a 15,794-square-foot mansion, with nine bedrooms and eight-and-a-half baths! (Of course, Jef has about 20 siblings I think, so that house was probably pretty cramped, despite its ginormous size!) The Ashley hasn't been able to determine if this was the house that Emily came to when she visited with Jef's family during hometown date week.
The house sits on three acres of land, features an infinity pool, putt-putt golf course (as most houses do), assorted sports courts and multiple custom-built cooking areas. It also has a home movie theater and private gym! It sounds like the perfect place for Jef to move his future bride and her kid; however, the couple revealed on the "After the Final Rose" show that they will be moving to Emily's hometown of Charlotte, North Carolina. (Told ya so!)
While Jef may have grown up there, he no longer resides in the Holms' giant home. According to a comment left on this site by the real estate agent handling the sale of the home, "All of the children are out of the home and have their own lives. Jef's parents are occupied with a service mission and they made the decision to sell the home."
I think if I were Emily, I'd be trying to get Ma and Pa Holm to let me move into their pad, at least until it sells!

To see more photos of Casa de Holm, click here!
(Photos: WDHobson.com)