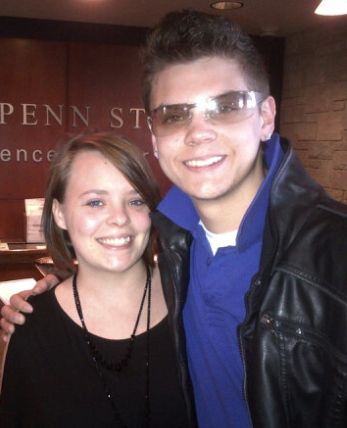 Their faces may be plastered all over every tabloid at the supermarket checkout counter, but not all of the stars of the Teen Mom franchise want to be considered "celebrities."
While some of the girls from the show are desperately trying to extend their fame and turn themselves into Hollywood celebrities (cough, Farrah, cough) one of the original girls, Catelynn Lowell, says she has no interest in being a starlet.
"I always say I don't use the f-word which is famous and I don't use the c-word which is celebrity because I really don't consider us that," she told Penn State University's HerCampus.com a few months ago. "I get people all the time that are like 'Oh my gosh you are just like you are on TV.' And I'm like 'Yeah, I'm not faking it.'"
Catelynn has, for the most part, kept herself out of the limelight (except for this little TMZ appearance a few weeks ago, of course), and has focused on being an adoption advocate. She and fiance Tyler Baltierra are about to embark on a speaking tour in which they will go to universities and speak about their adoption experience. (To see the dates and locations of their speeches click here.)
While she and Tyler may be busy with their speaking engagements, they are also planning their wedding, which is set for next summer. According to Catelynn's father, 'Teen Mom' fans will be 'invited' to the nuptials, as MTV has been filming the couple as they make plans for their big day!
David Lowell told CeleBuzz that MTV has been filming "all of their wedding planning leading up to the big day." Although MTV told the site that,"We haven't greenlit any spin-offs with the original Teen Mom cast" when asked for comment, it looks like Papa Lowell must have let the cat out of the bag a little early.
Who else is thrilled that we will get to see Catelynn and Tyler get married?!
(Photo: Twitter)