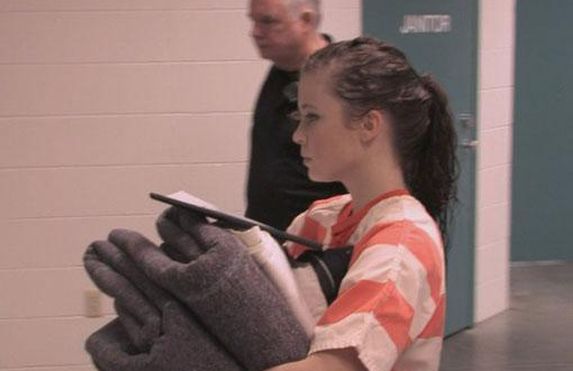 Before the Maury Povich Show became all about paternity tests and "You Are NOT the Father" statements, Maury used to do these episodes where parents would bring on their teenagers that were doing crappy things–stealing, drinking, getting freaky with every guy in their high school, etc.– and send them off to jail for the night to try to make them curb their wild ways. (Admit it, you loved watching those little punks break down in tears after being in the jail for five minutes!)
Now that Maury is busy trying to figure out which deadbeat is Shaneqwa's baby-daddy, a new reality show is stepping in to set these troubled teens straight!
Teen Trouble, which premieres on December 28 on Lifetime is a "gritty new docu-series from the creator of Intervention [that] is out to save a few untethered teens with a taste of jail, a night among the homeless and a mingle with some prostitutes," according to the New York Post.
"It is not about scaring them straight. It is about bringing them face to face with both options," the show's host and teen behavior specialist Josh Shipp told the New York Post. "The intent is to give the kid a genuine wake-up call."
The first episode will focus on a little tart named Samm, who likes to smoke pot and then steal her dad's pickup truck for frequent joyrides. Don't worry–  Samm says "I think I am a good driver when I am high."
The show follows Samm as she's arrested and escorted to the jail for a night. Another episode focuses on a kid who is fond of running away. Josh puts him out on the streets of Eugene, Oregon, to show him how good he has it living with Mommy and Daddy.
The Ashley will certainly be tuning in! Those "Scared Straight" Maury episodes were her favorite thing to watch when she was home sick from school! To read about all of the upcoming episodes, click here.
Will you be watching?
(Photo: MyLifetime.com)