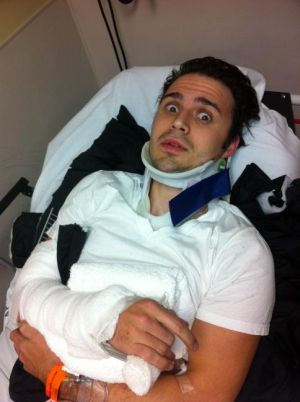 Sounds like someone's 2013 is off to a pretty yucky start!
American Idol Season 8 champ Kris Allen and his wife, Katy, were involved in a nasty head-on car crash earlier today. The accident left Kris with a broken arm and in a lot of pain, according to tweets by his mother Kimberly.
"Kristopher and Katy are both pretty beat up but ALIVE! Thank you Jesus! They are setting his arm now and will have surgery tomorrow," she tweeted.
Kris' puppy, Zorro, was also in the car during the accident, but escaped unharmed.
Kris' broken arm may cause him to be unable to play the guitar for awhile, which will be a major career setback for the 'Idol' alum. He was scheduled to play a show in Vermont a week from today, which would kick off his "Out Alive" Tour, in which he would play around the country from January-April. He will most likely be canceling most of those tour dates.
As someone who knows the pain of a broken arm and the surgery it requires to fix it (thanks again, Maui, for that!) The Ashley sends Kris lots of get well wishes!
UPDATE: Kris took to his Twitter tonight to assure fans he was OK, and in the process announced some very big news!
"Thank you @ford for equipping me with a car that kept my whole family @katyallen @ZorroPup and the little one we have on the way safe," he tweeted. "Yes I got in a really bad wreck tonight and yes I'm having a lil baby. #gonnabeadaddy."
He also reassured fans that his broken bones will not interfere with his scheduled tour.
"Don't worry everyone I may have broken my wrist but the #OutAliveTour is still on," he tweeted.
(Photo: Twitter)