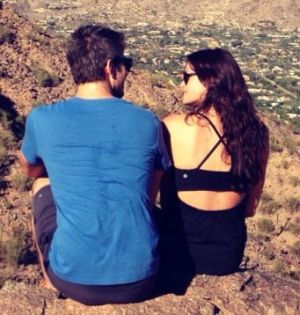 After only a few months of dating, Bachelor rejects Courtney Robertson and Arie Luyendyk Jr. have fallen victim to the 'Bachelor' franchise curse! Arie confirmed on his Sulia account that his relationship with Courtney is over.
"Just to clear the air on dating Courtney, we are [no] longer seeing each other," he posted on January 3. "I want everyone to know she got a bad rap on 'The Bachelor' and truly is an AMAZING person but we just both wanted more private relationships."
Of course, he ended his post with the typical 'Bachelor'-couple-splitting-up line:
"I wish her the best and I hope we'll remain friends."
Yeah, because she did so well with her post-relationship "friendship" with her other ex, Ben Flajnik.
Arie later told a Twitter follower that he chose to make an "official statement" regarding his breakup with Courtney because he gets asked about her by fans nearly every single day.
So that means Arie and Emily Maynard are both single at the same time? And so are Jef Holm and Courtney? Hmm…Chris Harrison, let's try to make this happen!