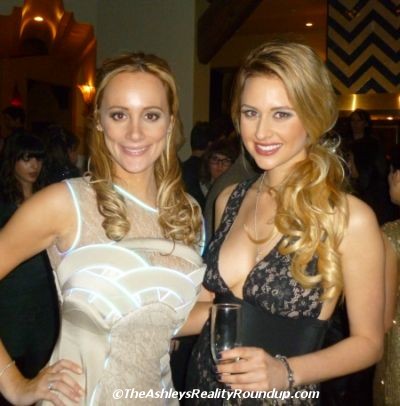 The Ashley spent Friday night at the famous Bachelor Mansion  and had a chance to meet and talk to many of the former Bachelors and Bachelorettes, as well as several of the show's most notorious former contestants! The network celebrated the show's 25th season by throwing a giant cocktail party in honor of the Winter 2013 TCA! The Ashley will be posting more of her interviews and photos throughout the week.
One of the girls that The Ashley chatted with was two-time Bachelor Pad contestant Erica Rose. Erica, who has graduated from law school and gotten a job in a law office since we last saw her on 'Bachelor Pad 3', says 'The Bachelor' has changed a lot since she made her first appearance during Season 9 in 2006.
"On my original season [with Prince Lorenzo] it was really subdued," Erica told The Ashley.
"None of the girls were really over the top. The fact that I wore a tiara back then was a really big deal. That's not really that big of a deal compared to what the girls on the show are doing now."
For those of you who didn't get to see all of the backflip fails (Oh yeah, that happened) and embarrassingly bad song-and-dance numbers the girls used to get the attention of current 'Bachelor' Sean Lowe, you can read all about the first episode here.
"Some of the girls on the show now are really over the top," Erica said. "[The producers] encourage that, but the girls also do that on their own. It seems like it's getting more and more outrageous as the show goes on."
Erica said that while she enjoyed her experiences at the Bachelor Mansion, we probably won't be seeing her on any of the shows again.
"I don't think I would do [Bachelor Pad] again. I think two times is enough! It was fun, that's why I went back for a second time, but this last time it wasn't that fun. You get betrayed by people you know, so it's bad. It's hard."
We also chatted about Erica's father, Dr. Franklin Rose, a plastic surgeon in Texas that has worked on many of the show's stars. (In fact, some of his patients, including recent nip-and-tuck recipient Trista Sutter were standing nearby!)
Erica said that many of the former contestants have contacted her after they watched themselves on the show.
"People [from the show] reach out to me," she said. "My dad has kind of become the official 'Bachelor Plastic Surgeon' I guess. Vienna [Girardi] was the one that kind of started it."
In case you didn't know, Vienna went to see Doc Rose in July 2011 for a nose job. Since then, his 'Bachelor' franchise patient list has included Trista, Ella Nolan, and most likely other contestants who haven't been as open about their procedures…Jillian Harris was looking much more 'refined' on Friday night than in years past…hmmmm…