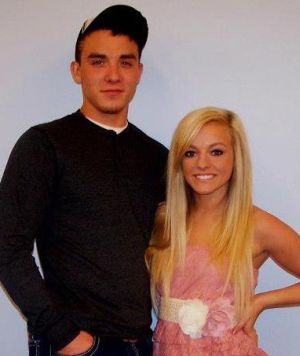 Looks like wedding bells will soon be ringing for yet another star of the Teen Mom franchise!
Just a few months after Teen Mom 2 stars Kail Lowry and Jenelle Evans both tied the knot, Teen Mom 3 star Mackenzie Douthit has announced that she and her baby-daddy, Josh McKee are engaged–and moving halfway across the country!
Mackenzie revealed her big news last week by posting a photo of her engagement ring with the caption, "I said yes!" Mackenzie and Josh were engaged previously until 2012, when they called off their engagement to "have a fresh start" at their relationship.
This time, however, they are planning to get married right away, with a wedding set for April!
"Now I have three months to plan for a wedding… So exciting," she posted on her Facebook page last week. She's already purchased her wedding dress!
Mackenzie also announced that she, Josh and their son Gannon will be moving from Oklahoma to Southern California in August. Although she hasn't revealed the reason she is making the move, The Ashley suspects that Josh may be joining the military, as there is a huge Marine base located in San Diego, California, the town that Mackenzie will be living in.
'Teen Mom 3' is set to premiere sometime in 2013. (The Ashley is guessing it will be late spring.) In addition to Mackenize, it will also feature 16 & Pregnant Season 4 alum Brianna DeJesus, Katie Yeager and Alexandria Sekella.