Do you recognize this stylish 1990s gal? Back before her reality TV fame and fortune, this girl was rocking the chunky platform shoes, (you know you had some of those things too!) braces and a fashionable dress straight off the rack of ClothesTime! ('Member that store?! Gosh, I'm old!)
These days this girl is much tanner, richer and better clothed. Can you guess who she grew up to be?
Click below to find out.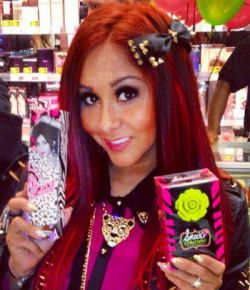 It's Snooki (aka Nicole Polizzi!) Now a mother and star of her own Jersey Shore spin-off, Snooki & JWOWW on MTV, Snooki has traded the chunky shoes for ridiculous spiked heels, but she still looks the same in the face as she did in middle school!
She posted this photo on her CeleBuzz site for "Throwback Thursday!"
(Photos: CeleBuzz/Facebook)