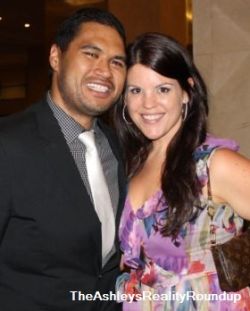 Biggest Loser alum Stephanie and Sam Poueu have announced that they are going to be parents!
The couple, who are expecting their first child in July, got married in May 2012 after meeting during the ninth season of the show. They appeared at the 'Biggest Loser' finale in May 2012, sporting matching wedding bands engraved with 'I Choose Us.'
The good news is certainly welcome after all of the hard times these two have faced since their engagement in 2010. In September 2011, Sam fell 54 feet from a fire escape and suffered extensive injuries to his head and body. Stephanie stuck by his side throughout his difficult recovery.
"This puts all we've been through in perspective," Sam told US Weekly last week. "I'm alive to be the father of my wife's baby."
Stephanie and Sam have received a shower of warm wishes from the show's fans since announcing the news.
"@SamPoueu and I are so grateful to have met on Biggest Loser & thank you for the well wishes!" Stephanie tweeted on January 23.
The Ashley has met both Stephanie and Sam and can tell you that they are both wonderful people who will make great parents!
"Just from the experience of her being my caretaker post-accident, it was a dead giveaway that she'd be a fantastic mother," Sam added. "That was an early sign for me that our child is going to have the best mother ever."
How cute is that?!
Stephanie and Sam have not revealed what names they are considering for their baby, but perhaps they should go with "Bob" for a boy and "Jillian" for a girl? Just a suggestion!