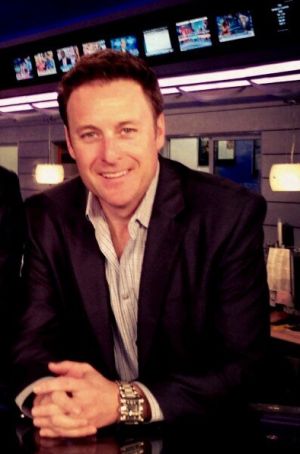 Bachelor fans have been looking at his smiling mug for the last 11 years, so it's no wonder that some feel a personal connection to host Chris Harrison. Sometimes, however, things get a little too "personal," he revealed today during a media conference call.
"I get a lot of people wanting to talk to me about relationships," Chris said. "And I get a lot of very awkward conversations and you know I'll be at an airport restaurant or bar or whatever and someone will come and just literally start telling me their life story."
Apparently the conversation doesn't stop when Chris doles out his famous advice. Some fans want to talk about the, um, down-n-dirty details of their relationships.
"[It] really get[s] into some pretty deep details about whether it's their sex life or lack thereof or whatever it is.  It's amazing the things that people tell me"
Although I'm sure it's kind of awkward for some random fan to approach him for sex advice while he's trying to eat his Subway sandwich at the airport, Chris said he doesn't mind it and is, in fact, flattered.
"I'm kind of happy about the fact that I guess I'm approachable and I seem like I'm everybody's kind of friend and therapist because they see me and have gotten to know me over the last you know 11 years.  But, you know, I'm honored in that respect.  But there's some times where I'm like 'Should you really be telling me some of this stuff about your life?'"
So if you happen to sit down at a bar and notice Chris sitting on the stool next to you, you apparently have his permission to ask him for relationship/sex/life advice!Or you could just quiz him about 'The Bachelor' and then report all the info back to The Ashley, either way!
(Photo: Twitter)