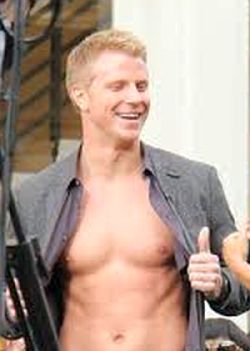 Although his smiling face wasn't shown when ABC recently announced the Season 16 cast of Dancing With the Stars, WetPaint Entertainment is reporting that Bachelor star Sean Lowe will indeed be part of the new cast!
According to 'Bachelor' behind-the-scenes guru, Reality Steve, ABC is keeping Sean's name off of the cast list until after the 'Bachelor' season finale airs on March 11, and that the ABSolutely fabulous blond will collect over $100,000 for doing the show!
Apparently, he will be paired up with Peta Murgatroyd. (She's the blond pro dancer that kind of looks like Hilary Duff, in case you were wondering.)
Anyway, apparently Bachelorette star Emily Maynard has decided not to do the show, although there was much speculation that she would, indeed, be cast.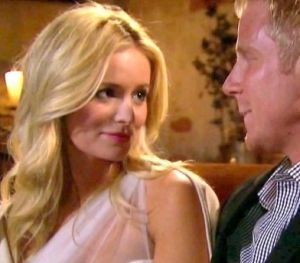 Back in January during an event at the 'Bachelor' Mansion, Emily told The Ashley that she had no plans to do 'Dancing With the Stars' but, "that I should never say never. I also said I would never do 'The Bachelorette' but I did."
Joining Sean on the Season 16 cast list are:
Country singer Wynonna Judd (who plans to use this show to help her lose weight, like Chaz Bono and Kirstie Alley did before her);
D.L. Hughley (who will fill the "respected comedian" slot just like Adam Carolla did before him)
Football player Jacoby Jones (because there always has to be a pro football player on the show)
'Real Housewifes' star Lisa Vanderpump (who will fill the "annoying reality star" slot)
Comedian Andy Dick (who was cast as the "celebrity trainwreck" a la Steve-O)
Boxer Victor Ortiz (they always have to have a boxer!)
Zendaya (I have no idea who this person is. His/her name sounds like a hair product, though.)
Olympic gymnast Aly Raisman (They love them some Olympians on this show: Shawn Johnson and Apolo Ono are just a few that they have had over the years.)
Ingo Rademacher (Who is apparently a soap opera star?)
Singer Kellie Pickler (The Ashley loves her! It's about time they have an 'Idol' alum on this show!)
Figure skater Dorothy Hamill (who will fill the "older woman" slot like Florence Henderson and Jane Seymour did before her.)
(Photos: ABC)