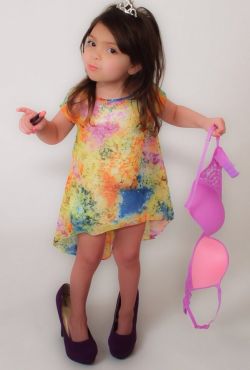 Teen Mom star Farrah Abraham's daughter, Sophia, turned 4 yesterday. It's hard to believe that it was four years ago that Farrah was filmed for her 16 and Pregnant episode yelling at her mom on the way to hospital. Aww, memories.
Anyway, in honor of the big day, Farrah took Sophia to get her pictures taken. (You can see the full album here.) While most of the photos included a smiling Sophia posing with her mom, or a giant number 4, one photo stood out from the pack: a photo of Sophia holding one of her mother's gigantic bras! W.T.F.
Now, I'm just assuming that it was, indeed, Farrah's bra, since the last time I checked the JC Penny photo studio doesn't generally keep lingerie on-hand as props for a kid's photo shoot. ("OK, so do you want her to pose with the giant crayons, or have the cool laser background, or do you want her to pose with the giant D cup bra?")
Before anyone goes all "Farrah" on The Ashley, allow me to explain that, yes, I understand the theme of the photo was that Sophia was playing dress-up and pretending to be older, posing with her mom's shoes and lipstick. But was it really necessary for her to have to dangle one of Farrah's big ol' boulder holders in the photo? Come on, Farrah, what are you thinking?!
Anyone that follows Farrah's Sulia and YouTube postings (you really should, they're quite the treat!) will know that Farrah's way of thinking isn't exactly normal. From her weird product pitch videos, to her eyebrow waxing debacle, to her strange "sex" workout tips, to her rambling and misspelled musings, she's…um, different, to say the least.
What do y'all think of the photo: cute or just creepy?!