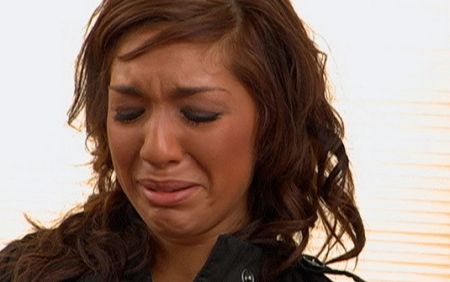 Teen Mom star Farrah Abraham made national headlines after getting busted for DUI in Omaha on the night of St. Patrick's Day. Of course, Farrah ran straight for the tabloids to tell "her side of the story." (Hey, she's got to make a few bucks off of every opportunity she can, now that those MTV paychecks aren't flowing in anymore).
However, according a very good source that The Ashley spoke with for a story she helped with for Today's "The Clicker," Farrah's explanation is a bunch of crap! According to the source, Farrah tried to blame anyone should could for her own bad decision.
Let's start at the beginning….
According to the official report, obtained by TMZ, Farrah was her usual "pleasant" self to her arresting officers, yelling, attempting to flee and finally banging her head against the wall of the police cruiser to let them know she was not happy about getting busted! However, the way Farrah tells it, it was all just a misunderstanding.
Farrah told In Touch:
"I was out with my sister. I did not plan to drink because I was sick, so I took the role of being in charge and making sure my sister and I would return home together and safely. At 10 p.m., I tried to leave, and at that time, my sister was not ready to leave, so I had been sipping on drinks to pass the time."
Farrah went on to explain that it was her sister, Ashley (who we've seen on the show) who didn't want to stop the party, and that, to avoid an argument, Farrah went to retrieve the car, but was stopped by police.
"When I was parked, a police officer asked me what I was doing, so I told him I was worried about my sister and I was trying to go home. They insisted on the regular questions and asked me to get out of the car. I got out of the car, and because I was upset, I yelled."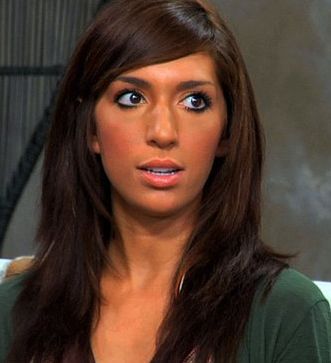 Somehow Farrah has managed to foist the blame on her sister, her friends, her flu, and the police!
The source, who was present the night of the incident, says, "She can say what she wants, but the truth is that her sister Ashley and her friends were miles away by the time Farrah got arrested. A friend of Farrah's offered to give her a ride home before they left, but Farrah didn't take it."
Not only that, but the area Farrah was drinking in was offering free cab rides home for partiers; however, Farrah declined to use the service.
To read the whole Clicker article, click here.
(Photo: MTV)