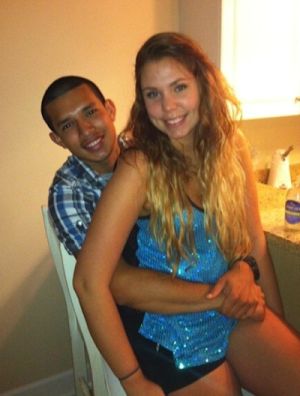 The Teen Mom fan world received some huge news this morning via In Touch Weekly! The magazine is claiming that Teen Mom 2 star Kail Lowry is pregnant with her second child!
According to the article, Kail conceived the child when she went to visit her husband, Javi, for his basic training graduation in February. Javi's sister, Lidia Marroquin, told the magazine that, "They're overjoyed! When Kailyn told Javi, he cried."
Kail and Javi have both stayed mum on the subject since the news broke this morning. It's unlikely that we will get a confirmation any time soon, due to them both being under contract with MTV.
However, according to The Ashley's sources, the news is 100% true! Even though Kail and Javi weren't planning on getting pregnant so soon, the couple is overjoyed! MTV…not so much.
Kail is the third of the 'Teen Mom 2' cast to announce a pregnancy in recent months. Leah Calvert recently gave birth to her third child, a girl named Adalynn, and Jenelle Evans was supposedly pregnant (The Ashley still has her doubts) back in January but miscarried.
Of course, Kail will get pulverized in the press for getting pregnant again. However, as The Ashley stated when she heard that Leah was pregnant again— these girls aren't 16 anymore. They are both married and have stable living environments. They may be young, but have been living the life of a much-older person since their first child was born, so if they think they are ready to have another child, more power to them. (Of course, this does not apply to someone like Jenelle, who is just a big pile of trainwreck!)
Congratulations to Kail, Javi and Isaac on their new addition! Since Kail is still in her first trimester, we will have to wait to around November before we get to know if it will be a lil' Kail or a lil' Javi!