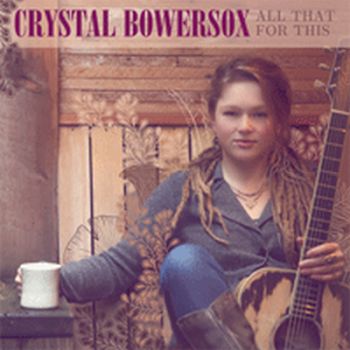 The Ashley has made it no secret that she loves Crystal Bowersox, who finished second during the ninth season of American Idol. Crystal is one of the most talented people to ever appear on the show, in The Ashley's opinion, so she is extremely excited that Crystal's new album, "All This For That," was released today!
Crystal wrote or co-wrote every song on the album (a rarity these days), except for one cover. The album includes a duet with Wallflower's lead singer, Jacob Dylan ('member him? Mr. "One Headlight?")
The Ashley was a big fan of Crystal's first album, "Farmer's Daughter" and she encourages you to pick up a copy of that one as well! In general, The Ashley's not one for country/folk sort of music, but she gladly makes the exception for Crystal. (You can listen to the album here.)
This summer, Crystal will be staring as Patsy Cline in the Broadway production of "Always, Patsy!"
If you want to buy Crystal's new album, click here: All That for This
Just for the record, The Ashley's not related to Crystal or anything, so she has no reason to pitch this except that she loves every song that comes from this talented woman! With music as it is today, with Kesha writing hit songs that mostly consist of "blah blah blah" as lyrics, or Nicki Minaj making millions off of songs with lyrics about being a "bad bitch," Crystal is a breath of fresh air.
(Photo: Shanachie)