Judges belittling contestants on The Twitter? Backstage diva feuds? You won't see any of that on The Voice, unlike that other singing show, says 'Voice' host Carson Daly.
"We don't have that in-house drama," he told E! Online. "We don't produce the show with any drama. We're not looking for that. It's just a different environment."
'The Voice' recently premiered its new season. Viewers have seemed to embrace the show's new judges, Shakira and Usher, (unlike the fans of American Idol, who seemed to collectively hate the show's new judges). 'Idol' judge Nicki Minaj has received overwhelmingly bad reviews, with reports of her diva-esque backstage behavior starting to circulate the Internet.
According to Carson, the judges of 'The Voice' are anything but divas.
"She's very humble," Carson said of Shakira. "She drove herself to work during the blind auditions." (Hey, at least she actually showed up to the auditions! That's better than Nicki could do, apparently!)
He also believes the drama-free atmosphere is one of the reasons that the show is attracting more and more talented people each season.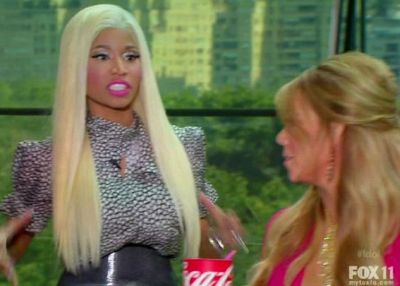 "We're finding better people, because they're coming to us now as the place to get discovered," he said.
The Ashley used to love 'Idol,' in fact it was her favorite reality show (and that's saying something, as you know!) However, this season has become just nauseating and painful to watch. If it weren't for a few of the very talented female contestants (mainly Kree Harrison and Janelle Arthur, who are both amazing), The Ashley would have just given up on the show altogether. Every time Nicki comes onscreen, The Ashley has to hold herself back from hitting her TV with a frying pan!
The show is, unfortunately, sinking fast. Yesterday's episode got the lowest ratings in the show's eleven-year history!