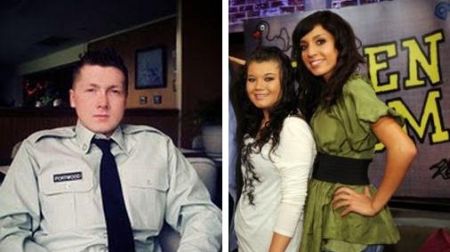 Teen Mom train wreck Farrah Abraham claims she scored over a million dollars to get freaky-on-film with adult film star James Deen. Her video, which will be called "Farrah Superstar: Backdoor Teen Mom" (Yes, that is actually the name of the p0rno. Even The Ashley couldn't make something like that up!) was purchased by Vivid Entertainment. Steven Hirsch, the founder of Vivid.
He released a press release saying that the skin flick will contain, "over 70 minutes of non-stop erotic action," including  "stunning backdoor scenes."  (Um, yeah, that means in the butt, in case you're not up on your p0rn lingo!)
Anyway, since the news broke that Farrah had made a p0rn, her 'Teen Mom' co-stars have stayed quiet on the topic. However, Amber Portwood's brother, Shawn, let it slip on Twitter that Farrah might not have been the only MTV mom to have been offered the chance to star in a skin flick.
eonline.com/news/413097/fa… I know a girl who was offered a huge sum of $ to do the same thing. She didn't bc of her daughter.#thankyousis

— Shawn Portwood (@ShawnPortwood) April 30, 2013
Shawn mentioned on his Facebook page that "someone" had turned down the p0rn offer, despite her drug addiction, because she didn't want her daughter to have to live with that.
"So funny Farrah sold herself for close to $1 million. I know a girl who was offered close to the same substantial amount of money but said she would never do it because of her daughter. Even when that girl was battling an addiction and could have used the money. Being an entrepreneur does not mean selling p0rn of yourself. Just saying…" he tweeted.
Shawn has long been outspoken about his dislike for Farrah, even blasting her in a 2011 blog post.
The Ashley is certainly not shocked that a p0rn company would have approached Amber. They probably saw her in the depths of addiction and figured she would be desperate to get her hands on some extra dough, even if that meant she had to put her, um, hands on something else. Luckily Amber was smart enough to think of the effects of her doing a p0rn movie would have on her young daughter and turned them down.
Farrah, of course, isn't the sharpest tool in the shed, and is obsessed with fame, so it makes sense that she would take the company up on their offer.