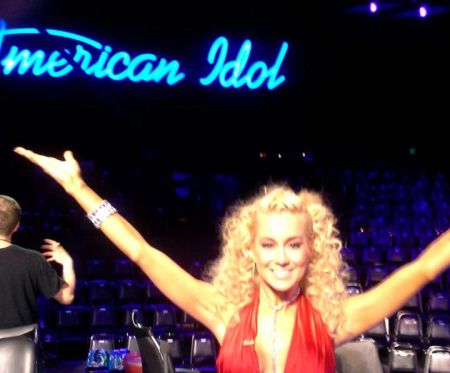 These days, Kellie Pickler  may be Samba-ing her way to winning Dancing with the Stars, but back in 2006, she was just a girl that worked as a roller-skating waitress who dreamed of being a country singer. Last week, Kellie took to her Facebook page to reveal how going on 'Dancing with the Stars' has changed her life, much like her time on American Idol did all those years ago.
"I remember being up there on that 'Idol' stage back in 2006 and praying to God that that stage would lead me to Nashville and score me a country music record deal, and it did," she wrote. "'Idol' changed/saved my life and for that I am so very grateful."
Kellie had a tough childhood: her mother abandoned her, and her father, who struggled with alcohol and drug addiction,  was in and out of jail throughout her life. She has mentioned several times that she might have ended up in a bad place had she not been chosen for 'American Idol.'
"It would not have been surprising if I had followed the same sets of steps of my raising," she told The Boot in 2011. "I think I just didn't want to be that person."
In her Facebook post, Kellie revealed that last week she snuck over to the "Idol'  set (which is in the same studio as the 'Dancing with the Stars' set) to wish this season's remaining contestants good luck.
"Like 'Idol,' 'DWTS' has also changed my life," she wrote. "Being on 'DWTS' has helped me discover so much about myself and I feel like it's helped me grow as a person…I've found so much joy in being out there on that dance floor."
The Ashley hasn't watch this season of 'Dancing with the Stars,' (She just…can't.) However, she is definitely on Team Kellie! She has always been so adorable and remained humble. You can't help but love her!