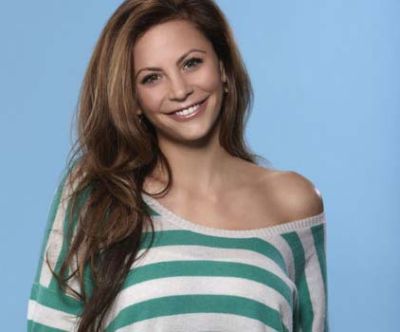 Very sad news to report, Roundupers. Gia Allemand of Bachelor and Bachelor Pad fame, has passed away at the age of 29, E! News has confirmed.
Gia, who was hospitalized in New Orleans in critical condition after an "emergency medical event", was on life support and having trouble breathing, according to a tweet put out by her friend Melinda Farina yesterday.
No one is sure what caused the "medical event," as her family has not released any information on what brought her to the hospital in the first place.
UPDATE: Gia's family has released more information about Gia's cause of death. Apparently she suffered brain and organ failure after attempting to commit suicide. She was found in her home by boyfriend Ryan Anderson and rushed to the hospital. The family took her off life support earlier today.
The family released a statement that gave more information on what happened:
Due to a critical loss of brain and organ function, life support was withdrawn today. Ms. Allemand passed away peacefully with her mother, boyfriend, and other life-long friends by her side. As a practicing Christian, Gia did receive the sacrament of last rites.
UPDATE 2: It's been reported that Gia's death came as a result of her hanging herself. E! News has released some new details on her upcoming funeral, which will be open to the public.
Other members of the Bachelor Nation have tweeted their reactions to the sad news. Many of them are heading to Philadelphia today for some sort of 'Bachelor' franchise event. Gia was apparently scheduled to join them.
Gone to soon. @GiaAllemand we will see you again……

— Graham Bunn (@GrahamBunn) August 14, 2013
We lost a loved one but heaven gained an angel. I will miss you sweet Gia Allemand. You will always be in our hearts and thoughts. ❤ You

— Jenna Burke (@TheOverAnalyst) August 14, 2013
In totally shock..Heart breaking. You were so loved. And always will be. @GiaAllemand Prayers and prayers and prayers to family. :(( sad day

— Kasey Kahl (@KaseyRKahl) August 14, 2013
Gia you are my angel! You changed so many lives with your beautiful soul and will be missed and loved forever.

— Vienna Girardi (@ViennaGirardi) August 14, 2013
Can't wrap my head around this news and that I was supposed to see Gia today. She was truly amazing and I'm lucky to call her a friend!

— Peyton W Lambton (@PeytonWLambton) August 14, 2013