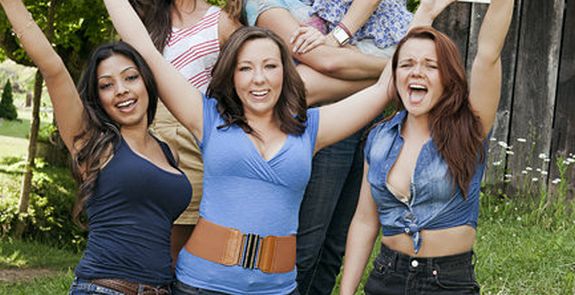 Apparently Salwa Amin didn't have a very Buckwild time while she was in the slammer, and she's blaming her MTV castmates for abandoning her in her time of need!
Salwa, who was released from the slammer in early July after serving time for being busted for hiding out in a shed with a crap-ton of drugs (As.You.Do.), took to her Twitter to express her disappointment with her 'Buckwild' cast members for not reaching out to her while she was in the big house.
Salwa, who in particular targeted castmates Cara Parrish and Ashley Whitt, claims none of her "friends" bothered to write her or visit her, which made her realize that they were never really true friends.
@KellyAdorno They could care less. They care more about the way they look. they dont wanna be associated to a recovering addict. #TRUEstory

— Salwa Amin (@Buckwilds_Salwa) August 14, 2013
A few days later when looking for a photographer to take some photos of her, Salwa basically called out her former pal Cara for her habit of modeling in very little clothing.
@bubblegumbabe07 I dont like the style. Im not tryn to be half naked in every single shot

— Salwa Amin (@Buckwilds_Salwa) August 14, 2013
Cara and Ashley were both angry at Salwa's harsh words, with Ashley even going as far as saying she was the only one in the cast that defended Salwa when she was in the slammer.
Salwa also revealed that she plans to move away from 'Buckwild' territory and go to Florida once she's strong enough in her recovery process. As The Ashley previously reported, MTV canceled 'Buckwild' following Shain Gandee's death earlier this year.
(Photo: MTV)