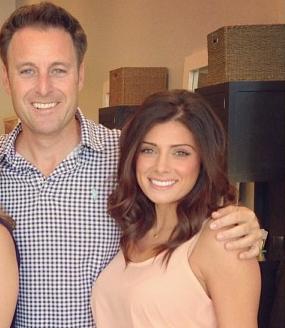 Now that he's a swinging single man, Bachelor franchise host Chris Harrison is able to dip his, um, rose into the 'Bachelor' alum dating pool. Chris, who separated from his wife of 18 years last year, is reportedly dating Selma Alameri, who "dated" Sean Lowe during his season of The Bachelor.
You may not remember Selma but you probably remember her boobs. Who could forget those things? They were in our faces every five minutes.
Anyway, according to a new report by Life & Style Weekly, Chris announced to his friends on Thursday night that he is, indeed, in a relationship with Selma, who is 13 years younger than him.
"Chris was introducing Selma as his girlfriend," an eyewitness told the magazine. "They were very cute together and not taking their hands off each other."
Just for the record– 'Bachelor' guru Reality Steve is saying this is all hogwash and that Chris and Selma aren't dating.
Neither Selma or Chris have commented on the report since it was released, but a glance over at Selma's Instagram account tells us that she's trying her best to make it seem like she's single, even photographing flowers (ahem, roses, of course!) that she sent to herself, along with a caption, "Sometimes u just gotta do it urself! #frommetome."

This isn't Selma's first ride on the former 'Bachelor' contestant merry-go-round. Back in February, she briefly dated Ari Luyendyk Jr. of Emily Maynard's season of The Bachelorette.
These people do know they can date people that weren't on 'The Bachelor', right?!
(Photo: Instagram)