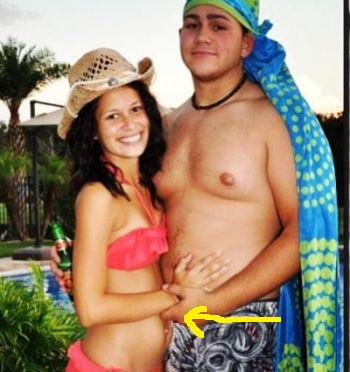 It looks like yet another girl from the 16 and Pregnant series is pregnant again! Jennifer Del Rio, who, during Season 3, had a memorable episode due to her giving birth to twin boys and the epic side-of-the-road battle between her and her baby daddy, Josh Smith, is hinting that she is once again expecting!
Have a doctor appointment tomorrow morning. Excited. Love these appointments! Then off to go shopping the boys for their bday party!

— Jennifer Del Rio (@JennDelRioMTV) September 19, 2013
Went to the doctor again. Was told ima be sick for probably a whole month. Bring on the meds!

— Jennifer Del Rio (@JennDelRioMTV) August 21, 2013
When a fan asked if she was expecting, Jen coyly responded with a happy face. More evidence? This recent photo (above)  Jen posted of herself on her Instagram account, which shows a hint of a pregnancy tummy. (On earlier photos, her stomach is completely flat–despite having had twins!)
Unbeknownst to her fans, Jennifer quietly married Luis Guiterrez back in April of this year. (See their marriage license application!) She has been calling him her hubby since then, but fans assumed it was because they were engaged. She has kept a relatively low profile since her "16 and Pregnant" days.
Jennifer is currently living in Florida near her family and is studying criminal justice in college. She plans to go into law enforcement and become a sheriff's deputy. She and the twins' father, Josh, are finally on good terms.
Congrats to Jen and Luis!
P.S. If you want updates on every single girl ever to appear on "16 and Pregnant," be sure to pick up a copy of The Ashley awesome book, Teen Mom Confidential: Secrets and Scandals From MTV's Most Controversial Shows, on sale now! It has lots of inside info and catch-ups with all the girls from the show!
Update: Apparently Jen wasn't too happy that The Ashley had decided to write about her!
Love how everyone wants assume things and make rumors about stuff when they have no fact behind it. Ridiculous!

— Jennifer Del Rio (@JennDelRioMTV) September 23, 2013
I share what I want with the world. Just bc I was on 16&pregnant doesn't mean the world needs to know about my life.

— Jennifer Del Rio (@JennDelRioMTV) September 23, 2013
Unfortunately, Jen didn't realize that when she chose to put her life on television, fans were going to be interested in what she's doing for years to come. (In fact, that show is still airing for the first time in numerous countries around the world.) That's just how it works, and posting cryptic tweets and engaging with fans on social media certainly doesn't help.
(Also, just a suggestion but…if you don't want to be associated with '16 and Pregnant" anymore, you should probably remove the 'MTV' from your Twitter handle, Jen!)
And, to be fair, The Ashley simply wrote that Jen was "hinting" that she was pregnant again (which she was). The Ashley did not–and will never– create any rumors.
(Photo: Instagram)