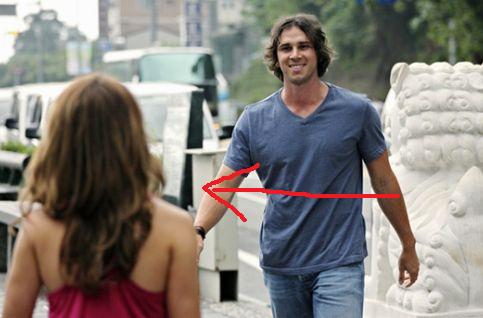 Have you always dreamed of going on one of those dream dates featured on The Bachelor? If spending the afternoon with one of the men featured on the show sounds like a great time to you (and you have an extra $2,500 burning a hole in your pocket), now is your chance to make your dream of dating a 'Bachelor' come true.
Unfortunately, it's Ben "The Bore" Flajnik. But still.
For only $2,500, you can buy yourself a date with Ben in his hometown of San Francisco. Ben, who is a guest curator for the site GildCity.com, will spend the entire afternoon with you (one-on-one), showing you around town and taking you to his favorite local spots.
"It's up to Ben what you do during your time together," the site says. "After getting lunch or dinner at one of favorite restaurants, you might help him walk his dog on the beach, explore his San Francisco neighborhood, or chat over a cup of coffee."
Or, you know, he could make you scrub his bathtub. Or maybe you guys can go skinny-dipping in the San Francisco Bay, a la Ben and Courtney in Puerto Rico!
Not going to lie…I'd probably pay about $1,000 to get to walk Ben's adorable dog, Scotch.
The site makes no mention of his proposal to Courtney and instead focuses on when he got dumped by Ashley Hebert on The Bachelorette. The Ashley finds this funny.
"Ben is famously heartfelt, getting down on one knee in Fiji to propose to 'The Bachelorette'  Ashley Hebert, who declined," the site reads. "It's his compassion and charm that landed him his own season of 'The Bachelor.'"
If you're sitting there scratching your head wondering "Who the hell would buy this?" allow The Ashley to answer this for you: a lot of people. In fact, the offer is currently sold out. But have no fear! You can add yourself to the waiting list (yes, there's a waiting list!) and cross your fingers that someone drops out so you can have a dream date with Ben!
This is just the latest money-grabbing scheme put out by stars of 'The Bachelor' franchise. Earlier this month, 'Bachelorette' stars Desiree Hartsock and Chris Siegfried offered to be your Twitter BFF if you bought a crapload of their creepy poetry books.
Keep your wallets handy; this certainly won't be the last time a 'Bachelor' contestant offers themselves up for cash!
(Photo: ABC)