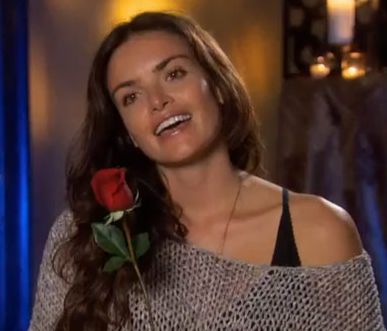 Courtney Robertson is just the latest Bachelor star to try to hawk a product using their 'Bachelor' fame. Courtney, who won the show in 2011, was notoriously hated by the other girls on the show for sneaking in a skinny dip with Ben Flajnik, and showing her fun-bags to an entire tribe in Panama.
On top of skinny-dipper and boobie shaker, Courtney can now add "author" to her resume, as she has just announced that she has landed a book deal with HarperCollins.
The book, which will be appropriately called I Didn't Come Here to Make Friends: Confessions of a Reality TV Villain, will be released in June 2014 (according to Amazon) and will tell Courtney's version of the events leading up to and after her on-air proposal from Ben.
"I wanted a chance to talk about what went down from my perspective, because I think there are a lot of misconceptions out there about me," Courtney told Us Weekly, who broke the story.
In the interview, Courtney makes a few surprising claims, including that going on 'The Bachelor' hurt her career.
"Going on The Bachelor was the most amazing opportunity I've ever had but I did not have a fairy tale ending!" she said. "The girls hated me, my modeling career was destroyed and Ben and I had a tumultuous 11-month relationship that ultimately imploded. There are two sides to every story."
Courtney promises that the book will be "juicy and hilarious." However, if you're hoping it will reveal a lot of behind-the-scene scandalous details about the show, you will most likely be disappointed. Courtney signed a contract before appearing on the show, which most likely prohibits her from spilling production secrets and all the other juicy stuff we want to know. Although she is no longer on the show, she is most likely barred forever from publicly talking about this.
(That's why you should read reality TV books that were written by people not under contract with the show— allow me to suggest  Inside AGT: The Untold Stories of America's Got Talent
…sorry, shameless promotion!)
"Writing the book has been very cathartic — I've definitely learned a lot about myself and love!" she said. "I think fans of the show are going to love it."
If you want to pre-order Courtney's book, click the Amazon link below!