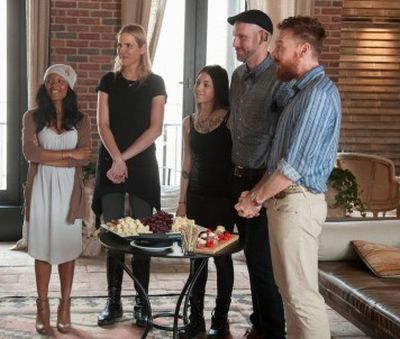 SPOILER ALERT: Do not read below if you have not watched the finale!
Last night Philadelphia-based designer Dom Streater was crowned the winner of Project Runway Season 12, after a grueling challenge at New York Fashion Week. The Ashley had a chance to chat with Dom this morning about her big win, and all of the drama that went down during Season 12. (Who could forget Ken's epic freakout— while wearing a cleansing face mask?! That was probably one of The Ashley's top moments in reality TV history!)
"You guys got to see the bulk of the craziness, but it was a lot more dramatic in real life," Dom told The Ashley. "Those fights lasted a lot longer than you saw on TV. Those things went on for hours!"
She also dished on one of the season's most abrasive contestants, Alexandria von Bromssen, who ended up finishing in second place.
"Alexandria is an … interesting person," she said. "She doesn't mean any harm when she does or says things, but sometime she definitely rubs people the wrong way."
To read The Ashley's full interview with Dom, click here!
(Photo: Lifetime)