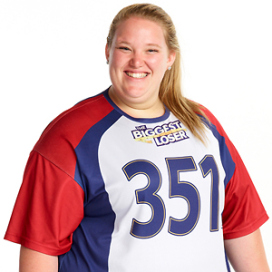 Season 15 of The Biggest Loser premiered on Tuesday night, and much attention was paid to the very famous face among the cast: Ruben Studdard, the Season 2 winner of American Idol. However, viewers with a good eye (and an addiction to MTV reality shows) may have recognized another one of the new cast members.
Contestant Holley Mangold is also no stranger to reality television. In 2011, Holley, who is an Olympic weightlifter, starred on an episode of MTV's True Life called "True Life: I'm the Big Girl."
During the episode, Holley proclaimed her body to be "360 lbs. of pure lovin'" and discussed how she used to be an offensive lineman for her high school football team. (For those of you that like "the sports," Holley's brother is Nick Mangold, who plays for the New York Jets.)
"When I look in the mirror now, I see something that I really like," Holley said during the "True Life" episode.
However, when the producers of 'The Biggest Loser' reached out to Holley in early 2013 to join the Season 15 cast, she jumped at the opportunity, even though it meant that she would have to put her weightlifting career on the back burner.
"I have been in the public eye for a while and it hasn't really bothered me," she told The Ashley in June. "There are many reasons someone wants to do something like this and one of them is definitely my fans. My fans have told me that I'm an inspiration to them. Girls come to me that want to [be a weightlifter] and I want to show them that you don't have to be a big girl.
"Even though I am a super heavyweight  [lifter] it does not mean I need to weigh 351 lbs.," she added.
Watch Holley's episode of 'True Life' below!
(Photo: NBC, Video: MTV)