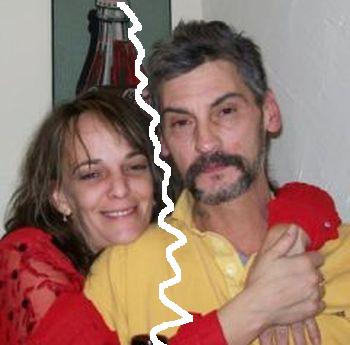 Say it ain't so!
The Ashley has learned that one of her favorite reality TV couples, Butch and April Baltierra of Teen Mom, are getting divorced!
The Ashley will give you a moment to digest that news…
Anyway, although the couple, who have been married since 2009 after their children, Catelynn Lowell and Tyler Baltierra, introduced them, seemed like a match made in mullet heaven, they often found themselves getting into crazy drug-and-alcohol-fueled fights, one of which was discussed during Season 4 of 'Teen Mom.'
It was that fight that landed career criminal Butch back in jail for violating his parole.
Anyway, according to someone very close to the couple, April has decided to file for divorce from Butch, who has been in jail for over a year. The Ashley's source says that, although they are still legally married, they barely speak.
Shockingly, Butch almost filed for divorce from April last year. During an interview with The Ashley for her book Teen Mom Confidential, Butch revealed that he planned to file for divorce from April and was using the prison's library to study up on how to properly file. (Out of a courtesy to Butch, The Ashley left that out of her book.)
However, it appears that April decided to take action before Butch could. Although Butch is up for parole in January, it's unlikely that he will go back to April should be get out of prison.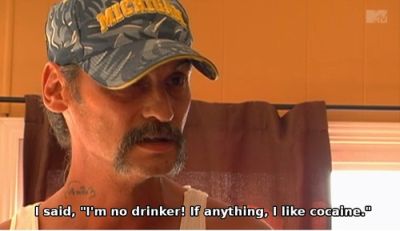 The couple's children, Catelynn and Tyler, have yet to mention their parents' impending divorce. However, a Butch and April split would mean that Catelynn and Tyler are no longer step-siblings, which would make their relationship a little less weird. (Yes, Cate and Ty were dating long before their parents ever got married, but, come on, it still has to be weird to say your fiance is also your stepbrother!)
Wanna see photos from Butch and April's 2009 wedding ceremony? Click here and here!
While The Ashley is certainly not shocked by this news, she is sad. A divorce will put an end to The Ashley's dream of ever seeing Butch and April get their own spin-off show on VH-1. I guess we can look at it this way– one, or both, of them will likely be on an episode of Cops in a few years, so we may get to see them on our TV screens again.
Since April got this tattoo to represent the relationship between her and Butch, I guess she's going to have to go out and find herself another man with a mullet!
Long live Butch and April!
(Photos: Facebook, MTV)