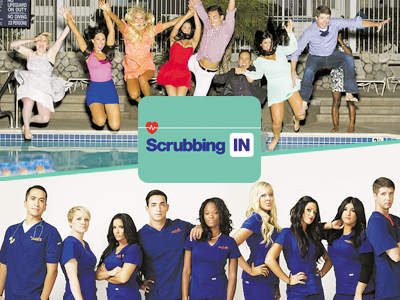 MTV was given "a shot" (bad pun, I know) of negativity when it premiered its new reality show, Scrubbing In, last month.
The show, which centers around the lives of a group of hard-partying nurses in Orange County, California, tended to focus more on the group's antics than their life-saving work, which outraged nursing organizations all over the country, several of which wrote open letters to MTV to try to get the show removed from the air.
In an almost unprecedented move, the network actually listened to the nursing organizations and has vowed to make big changes in regard to the show. (See? Sometimes the squeaky wheel really does get the oil…or however that stupid saying goes…)
Anyway, according to a post on nursing non-profit The Truth About Nursing's website, MTV reached out to them and has promised to take five steps in order to help repair the damage done by the show.
"MTV executives reached out to the Truth after receiving our letter and we engaged in lengthy discussion," the post read. "They were unusually open to hearing our concerns about the links between the stereotypes, the undervaluation of nursing, and the underfunding of nursing practice and education. Our main executive contact was disturbed that there was such a strong and unanimous condemnation of 'Scrubbing In' by nurses, calling it an 'eye-opening experience' for MTV.'"
After what the non-profit calls "extensive discussions" with the network, MTV has agreed to take the following steps:
Changing the show's time slot:  Although the show's remaining episodes will air, MTV has vowed to move the show to a less-prominent time slot in its lineup. The show, which was airing at 10 p.m., will now air at midnight, which will likely cut its viewership in half.
Re-editing of episodes: Say so long to those hot tub hi-jinks…well, at least some of them. The network has agreed to re-edit the episodes that have not aired yet so that they focus more on the events that happen within the hospital, rather than the partying that takes place after hours.
Create a 'Day in the Life of a Nurse' website feature: If you'd like to see what real nurses do on a daily basis, you will now be able to head over to MTV's website and see a to-be-created feature that follows a real nurse.
Post blogs about how to be a nurse: The network has promised to add a blog post on its website that discusses what it takes to become a nurse, which will hopefully encourage more young people to explore that field as a possible career option.
Consult with nursing organizations for any future programming: The Truth About Nursing says that MTV has agreed to consult with them if they decide to do any more nursing-related shows so that the organization can "educate those involved about potential pitfalls and key messages about nursing."
MTV has not revealed whether or not it will renew 'Scrubbing In' for a second season, but The Ashley thinks the chances of this happening are slim to none. With so many new reality shows premiering each season, MTV will likely throw in the towel on this show due to the controversy it has caused, and focus its efforts on a new program.
The Ashley will keep you posted!
(Photo: MTV)