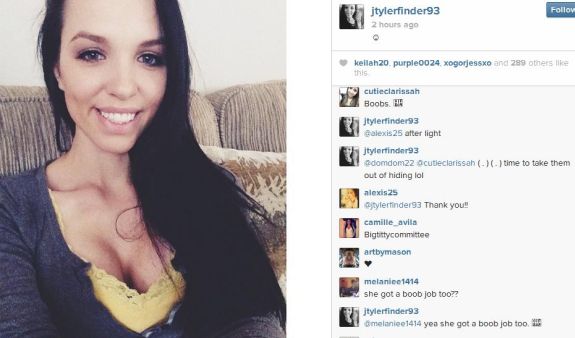 Jordan Ward Finder is taking her "MILF" status to another level! The 16 and Pregnant Season 3 star revealed on her Instagram today that she has gone under the knife and gotten herself some brand-new breasts!
After posting a photo in which her bosom looked much more, um, ample than usual, several of her followers commented that she looked like she had gotten a boob job. In response, Jordan admitted to having her funbags surgically inflated.
"She got a boob job too?" one follower asked, to which Jordan replied, "Yes, she got a boob job too." (I dig her snarkiness!)
In case you've forgotten, Jordan was the girl who was featured on '16 and Pregnant' alongside her twin sister, Jessica. At the Season 3 reunion special, Jordan was already pregnant with her second child but kept it a secret. She gave birth to her second child in November 2011 and is currently married to her children's father, Brian Finder.
In July, Jordan told Starcasm.com that she and her husband intend to have one more child at some point.
"We want one more, hopefully a boy," she said. "Right now we just wanna focus on the two kids we have already… And we are still young so we have plenty of time for more kids later."
Well…she just "gave birth" to new twins…on her chest!
Jordan certainly isn't the first girl from '16 and Pregnant' to get plastic surgery. Season 1 girls Maci Bookout and Farrah Abraham both got breast implants after their episodes aired (and Farrah has gotten a plethora of additional plastic surgery since then, including two nose jobs, a chin implant and chin implant removal). In 2012, Season 2's Jenelle Evans got her breasts enlarged and, more recently, Nikkole Paulun claims to have had an endobam breast augmentation.
Jordan didn't elaborate as to when she had her boob job, but it must have been relatively recent, as her photo posts from this summer do not seem to feature the enhanced boobies.
(Photo: Instagram)