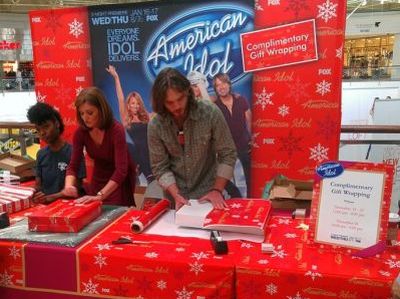 Ever wonder whatever happened to your favorite former American Idol contestants (you know, the ones that didn't just perform a semi-creepy live version of 'The Sound of Music')?
They're wrapping Christmas presents at your local mall.
No, seriously, they are.
FOX has gathered up former 'Idol' cast members, along with the stars of the network's new Army-themed comedy, Enlisted, to wrap up that new sweater you just bought at Kohl's for Granny, all in the name of sweet charity!
Former 'Idols' will be on-hand in eight malls across the country to wrap your goodies while you fill out a postcard to send to the U.S. troops overseas. This is the second time Idols have "wrapped" for charity. Last year, former contestants such as Brooke White (of Season 7) Bo Bice (the Season 4 runner-up) and Anthony Fedorov (the little blond kid from Season 4) spent some time slapping 'American Idol'-themed wrapping paper onto presents. (Is it wrong that I want a whole roll of that paper?! Don't judge me.)
Anyway, according to a press release circulated by FOX, the 'Idol' wrapping stations will appear in malls in Los Angeles, New York, Chicago, Nashville, Atlanta, Houston, Dallas and Tampa.
The network has yet to release the list of former 'Idols' we can expect at the stations, but if you're planning on chatting up Kelly Clarkson or Carrie Underwood while they package up your Campbell's Soup gift set, you're most likely going to be in for a big disappointment. Still, it's awesome that the former contestants are donating their time and wrapping energy to help out the troops!
I want Sanjaya to wrap my new sheet set!
(Photo: Hadley Media Facebook)