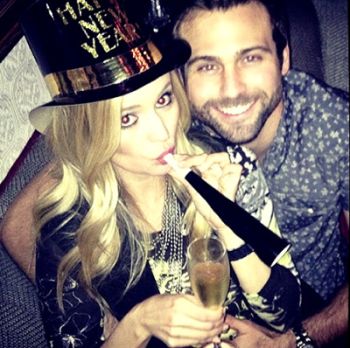 Emily Maynard is hoping the fourth time is the charm in terms of her engagements!
The former Bachelorette star revealed to Us Weekly earlier this week that she is once again engaged to be married. Emily, who we watched become betrothed to Brad Womack on The Bachelor and later Jef Holm on 'The Bachelorette,' is set to marry her boyfriend Tyler Johnson. (Emily was also engaged to her daughter Ricki's father, Ricky Hendrick, who died in a plane crash in 2004.)
According to Emily, who in May told a magazine she had no interest in finding a boyfriend and that "even the word 'engagement' makes my skin crawl," her fourth proposal was much more private and sweet than her last two.
"He proposed to me at home and gave both Ricki and me rings," Emily told Us Weekly. "It was so sweet! Ricki loves him more than she likes me!"
Instead of a diamond sparkler, Tyler proposed with five diamond studded bands. (As you do.)
"I've had enough engagement rings!" Emily said.
Wanna see what her other three engagement rings looked like? Click here!
Anyway, Emily says that this time around, she plans to make a rush to the alter.
"We definitely are looking to get married sooner rather than later," she said. "No point in waiting!"
Emily and Tyler met before she went on 'The Bachelorette' but started dating after she and Jef Holm broke up in the summer of 2012. She didn't even reveal that she had a boyfriend until July 2013. According to a November report in In Touch Weekly, Emily was so intent on trying to keep their relationship under wraps, she told people at her North Carolina church that Tyler was her brother.
Congrats to the happy couple! The Ashley hopes Emily has finally found lasting love! Stepping away from the limelight to find a man was the best thing she could have done.