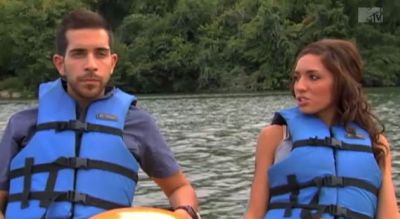 When it was announced that 'Back Door' Teen Mom Farrah Abraham would star on Couples Therapy, The Ashley was the first to let y'all know that the producers would be bringing people from Farrah's past–family members and former boyfriends–to attempt to "help" Farrah realize why she can't find true love.
After last week's premiere episode, the previews showed a glimpse of Farrah's ex Daniel Alvarez, who she dated during the summer of 2011 while living in Florida. Fans were understandably surprised to see Daniel, who appeared on several episodes of the last season of 'Teen Mom' before he ended his relationship with Farrah. (You must pick up a copy of The Ashley's book, Teen Mom Confidential! It features a very interesting interview with Daniel, who reveals what really happened behind the scenes of those episodes!)
Anyway, The Ashley caught up with Daniel to find out why he decided to appear on 'Couples Therapy' and what happened while he was on the set!
"I agreed to appear on the show because I saw an opportunity for me to clear the air regarding Farrah and I's past relationship," Daniel tells The Ashley exclusively. "In addition and most importantly, I felt it was a good time to give Farrah some direct and honest feedback on what I experienced during our time together."
Daniel, who was contacted by producers to take part in the show, says that he really did have good intentions for participating in 'Couples Therapy' and certainly was not in it for the fame.
"I only hope that my participation in the program helps Farrah realize some of her faults and aids her in becoming a better girlfriend and person altogether," he said.
While Farrah wasn't thrilled to have her ex-boyfriend on-set, Daniel believes she was informed that he would be coming.
"As for Farrah's reaction to me walking on set, I don't clearly remember," he said. "Although I didn't see Farrah's initial reaction, I don't believe she was surprised. She looked more upset than anything."
Let's just say she didn't embrace Daniel with a great big hug.
"[She gave me] that death stare she gives [her mom] Debra!" Daniel added.
After filming his segment, Daniel said he left and has not had any contact with Farrah since.
"I have not kept in contact with Farrah," he said, adding that the two hadn't spoken before filming the segment for 'Couples Therapy' in over two years. "The last time we spoke [before this] was during our breakup and the last communication with her was a few days later when she was texting me all sorts of obscenities."
Despite wanting to help her, don't expect Daniel and Farrah to rekindle their relationship any time soon. Although they are both coincidentally living in Austin, Texas, Daniel is in a serious relationship and says he would never even consider having any type of relationship or friendship with Farrah.
"I do not have any intentions to communicate with her moving forward," he said. "That chapter in my life is closed and I wish to leave it in the past. I wish the best for Farrah and hope she cleans up her act, not only for herself but for her daughter Sophia."
(Photo: MTV)