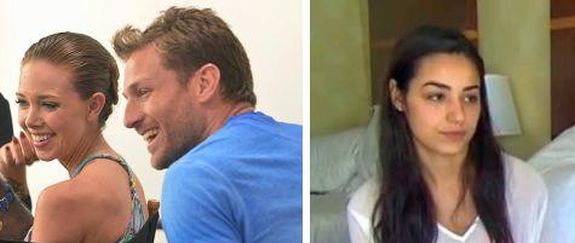 Juan Pablo Galavis's ladies are not standing by their man! After some negative comments he made about gay people went public on Friday, some of the girls that competed for his heart on The Bachelor are speaking out in disgust.
Contestant Kelly Travis (a.k.a the "Dog Lover") took to her Twitter to give her thoughts on the things Juan Pablo said about gay parents. (In case you've forgotten, ol' JP said, "Now there is fathers having kids and all that, and it is hard for me to understand that too in the sense of a household having peoples… Two parents sleeping in the same bed and the kid going into bed… It is confusing in a sense.")
Kelly, who apparently was raised by a homosexual parents, was not happy to hear what her hunk had to say.
"My only thoughts are, I have a gay parent and I turned out lovely," she tweeted.
Lauren Solomon (the girl who rode in on a piano) also tweeted her disgust, but later deleted the tweet.
"I juan a divorce," she tweeted.
It's probably safe to say that JP doesn't end up with either Lauren or Kelly, right?
And Victoria Lima, the girl that got sloshy drunk and went batsh*t crazy on last week's episode, spoke to TMZ about how much she dislikes Juan Pablo now.
"If I could do it again, I probably wouldn't go on the show with him being the Bachelor," she said, adding  that his comments were "thoughtless and inconsiderate."
Even the show's former producer, Jason Ehrlich, who does not work on the show anymore, seems to be happy that he doesn't have to deal with this PR nightmare.
"I think Juan is a great 'Bachelor,'" Jason told The Ashley exclusively during the TCA Winter Press Tour on Sunday. "I know there's some controversy about comments (he made). I don't really have a comment on that. But, overall, he's a great guy and the kind of guy you hope to have as a Bachelor, I guess up until he made the comments."
(Photos: ABC)