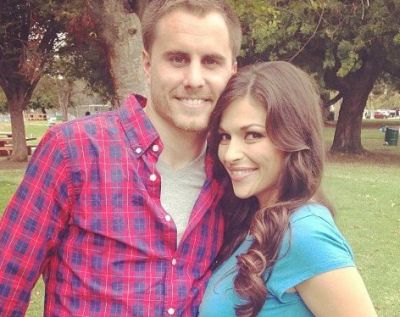 It's a girl for former Bachelorette star DeAnna Pappas and her husband Stephen Stagliano!
DeAnna, who announced her pregnancy last August, gave birth to a healthy baby girl on Thursday. DeAnna and Stephen have not revealed what they named their daughter, or posted any photos but surely we will be seeing the exclusive photo spread in People within the week.
In August, DeAnna told the magazine that she and Stephen were purposely keeping the name private.
"We've actually had it picked for a very long time," she said. "We've just decided to keep that between us until our baby girl arrives. We're so forthright with so much in our lives that we wanted to leave a few details for just us and our family to enjoy for the time being."
They, did, however, tweet excitedly after their daughter's arrival.
Our little angel is here! She was born on Feb. 6th. Daddy now has two loves in his life! Thank you all for the love and support 🙂

— Stephen Stagliano (@StephenStag) February 9, 2014
Cant begin 2 explain the joy I have w/ my baby girl. Perfect husband & perfect baby. I'm very lucky. Thank u all 4 the tweets! #fullheart

— DeAnna Stagliano (@DeAnnaPappas) February 9, 2014
Although DeAnna did not meet her husband Stephen on the show, she did meet him because of 'The Bachelor.' Stephen's brother, Michael, appeared on Jillian Harris' season of 'The Bachelorette.' DeAnna met Stephen while both were attending the Season 5 Men Tell All taping.
Congrats to the Staglianos!