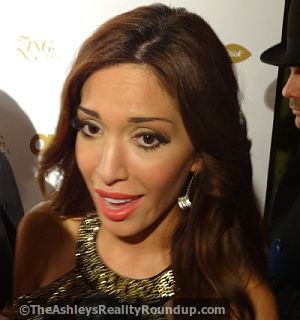 Last week, Teen Mom star Farrah Abraham came forward with a shocking claim that she had been abused during her childhood by her parents Debra Danielson and Michael Abraham. In a revealing interview with In Touch Weekly Farrah says that her parents got physically violent with her when she was a child.
"[They] would beat me with a belt if I acted out. I had cuts, bruises, welts, swelling and scars," she told the magazine.
An insider tells The Ashley that the interview was orchestrated by Farrah herself, and she received a hefty sum for it.
The only problem? It's not true, says a very close family source.
"Absolutely not," the insider, who is very familiar with the dynamics of the Abraham household during Farrah's childhood. "She's nuts. [There was no abuse] that I can recall."
While the source did confirm that Farrah's mother was prone to violence, it was rarely if ever directed at Farrah, who she views as her "golden child." We saw examples of this violence during 'Teen Mom.'
The Ashley reached out to both Debra and Michael to get their sides of the story. Debra declined to speak about it (unless she was paid…like mother like daughter, eh?) while Michael did not respond to a comment request.
Last month, Farrah talked to The Ashley about the current state of her relationship with her father. She revealed that Michael is living with her in Austin, Texas.
This is not the first time Farrah has been called out for lying. She continues to insist that her sex tape was actually a "leaked" personal tape between her and her boyfriend. However her partner, James Deen, blabbed that they were never in a relationship and the plan was always to release the tape.
She's also been called out for lying about being in a relationship with DJ Brian Dawe, who she insists ditched her right before they were to go on Couples Therapy. Brian revealed to Starcasm that he was never in a relationship with Farrah and that she's lying about what went down between them in regard to the show.
In the article, Farrah also revealed that she was drugged and raped repeatedly during the time period she toured the country to promote her sex tape at adult conventions and strip clubs. While The Ashley would never usually doubt a person that has come forward to claim that she was sexually abused, The Ashley does find this hard to believe.
Before you leave The Ashley mean comments, think of this: would Farrah, who cannot seem to get enough attention from the media, etc, really want to miss out on all the attention a public rape trial would bring her? If she really was raped, as she says, why wouldn't she bring charges against these people? Of course, some people would not want the attention a rape trial would bring, but we are talking about Farrah here. She would eat it up. If this really took place, shouldn't she be reporting it to the police, rather than In Touch magazine. Just sayin'….
As The Ashley always tells you Roundupers, take everything Farrah says with a grain of salt.